Actress Frances Fisher has a great combination of porcelain skin, deep auburn hair and bright blue eyes. Her complexion is cool, meaning that she will suit colors like silver, pink and purple. If you have cool skin and auburn hair, this makeup palette will work for you too.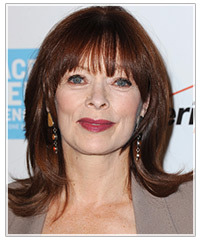 On the eyes, Frances has used a coppery shade of eye shadow and brown eyeliner. This brings out her blue eyes but women with this coloring should try cool black, grey, silver and pink shades on the eye instead. Warm shades, especially copper, can be too "matchy" with the hair color, so it's best to get a bit of contrast.
On her cheeks, Frances has used a subtle blush that adds just enough color to her complexion. If you have cool skin and auburn hair, just about any shade of pink blush will work for you.
On the lips, Frances is wearing the perfect shade of lipstick to match auburn hair. This deep berry pink shade looks amazing with her hair and eye color and is a great option for a sophisticated or mature look. However, if you want something a little more edgy and young, try out bright fuchsia or hot pink instead!
For even more helpful makeup hints, see our full range of beauty articles and beauty blogs. You can even try some virtual makeup on your own photo or our model using our Virtual Hairstyler!