Her new, shorter style was curled into ringlets and worn pulled to the side in an old Hollywood vintage style, which matched her glittery dress and earrings perfectly. Her makeup, on the other hand, was decidedly more modern.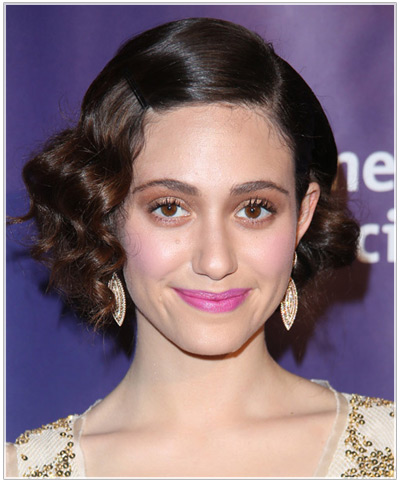 On the eyes, Emmy chose a glittery bronze shade and applied it over the lid, all the way up to the eyebrows and also under the bottom lash line. Her bronze smoky eye effect was enhanced further with a darker shade of brown eye shadow, applied around the lash lines with a thin applicator brush. No eyeliner was used; Emmy just topped it off with dramatic mascara instead.
On the lips and cheeks, instead of matching the warm tones on her eyes, Emmy chose to wear cool tones and applied an icy pink blush and fuchsia lipstick.
Wearing warm and cool shades always results in a makeup clash, so Emmy chose a daring combination on this occasion! Thankfully, her skin tone is neutral so she is able to pull off both tones, but it's still not the best look for her. What is your opinion of Emmy Rossum's makeup- is it fabulous, or a major fail?
For even more helpful makeup hints, see our full range of beauty articles and blogs. You can even try some virtual makeup on your own photo or our model using our Virtual Hairstyler!