Actress du jour Emma Stone is all over the big screen lately, and is a paparazzi favorite for her stunning looks. Although she had a brief run as a blonde, she is usually seen rocking glossy auburn or copper locks, with fabulous makeup to match.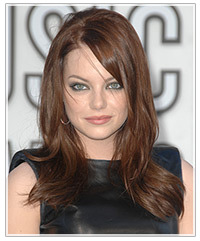 Here, Emma works a long, layered cut with a side-swept fringe, keeping it loose, natural and full of body. She brings out her large blue feline eyes with soft charcoal eyeliner and smoky grey eye shadow. A light cool pink lipstick finishes off this soft and sexy look.
Women with fair skin and auburn hair can copy Emma's style by sticking to cool-toned makeup in shades of pink, peach, silver and grey.
So many celebrities get the red lip wrong, especially when they have red hair, but Stone pulls this look off flawlessly by choosing a cool pink eye shadow and pink-based red lipstick to match. Her glam side-swept bangs and loose waves perfect this retro-inspired evening look.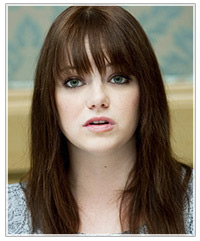 For an easy daytime look, Emma goes for a sheer nude lip and just a touch of brown eyeliner on her top lash line, and the outer corners of the bottom lash line. Her round face suits this eye-skimming fringe, but her hair color lacks the lustre of her usual brilliant red tones. Keep it ginger Emma!
 
 
 
See more Emma Stone hair and makeup looks.