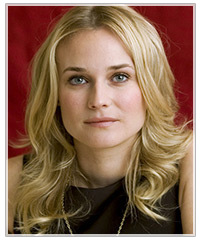 Diane Kruger is a German actress who has appeared in huge blockbuster movies like Troy and Inglorious Bastards, but also makes headlines for her natural beauty and chic fashion sense.  Diane pulls off the natural look with ease. Granted, she is a former model so she has a head start on most of us, however her soft hair and makeup can be copied by anyone with fair skin, light eyes and blonde hair.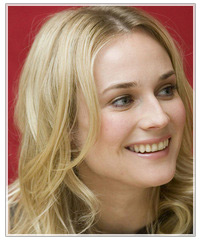 Diane's long, layered waves harmonize with her petite features and square face shape. This hairstyle adds softness and body from the crown to the ends, and shows off her champagne highlights. Diane is rocking a center part which looks fab, however if you have a very strong square jaw line or a round shape to your face, go for the side hair part instead. Centre hair parts widen the face in most cases.
Being a natural beauty, Kruger doesn't need a lot of cosmetic enhancement to look good. Her light blue eyes are highlighted with a soft medium brown eyeliner and black-brown mascara. If you want to add a bit more drama, try a soft warm brown eye shadow on the eye lid. Diane keeps her lips and cheeks nude and natural with just a touch of pink to add a rosy glow. Her favorite product is Stila's Color Push-Ups for cheeks in Berry Flash, so if you have a similar skin tone to Diane, try this shade out!
See more Diane Kruger hair and makeup looks.