Alison Sweeney has recently been spotted wearing the vintage look that is becoming so popular on the red carpet. The classic combo of curled blonde hair, black eyeliner, red lipstick and possibly some fake eyelashes has been done a million times over, but it doesn't hurt to analyze this particular look one more time!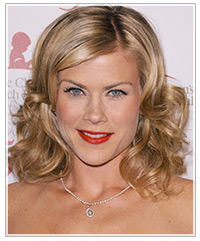 This Days of Our Lives actress has medium length hair that is usually worn straight or wavy. Here, hair rollers have been used to add volume in the roots and lots of curls in the ends. A diagonal side hair part works well on Alison's square face shape and the curls soften up the jaw line. To finish, her side-swept fringe has been sprayed into place. Her color is highlighted with light blonde and honey tones which gives off a glamorous shine.
On the makeup side of things, Alison has gone for the classic black liquid eyeliner and fake eyelashes combo. She has kept the eye light in terms of eye shadow, only using a pearlescent shade that brightens the eye area up.  For her blush and lipstick, Sweeney has chosen orange-based colors to match her warm skin tone. The lipstick would have worked better in a deeper shade of red, but overall it worked okay with her entire look. 
So when it comes to Alison's vintage-inspired hair and makeup, what is your verdict?