It may not be Valentine's Day, but don't let that stop you from wearing a romantic hairstyle every now and then! Romantic hairstyles take their inspiration from bygone eras and are usually embellished with soft curls or waves, twists or rolls and other styling features that give them a classic, timeless elegance.
When to Wear Romantic Hairstyles
You can wear these hairstyles whenever you please. They work for both day and night, although you can certainly embellish them for a fancier evening look by adjusting your makeup and outfit, plus you have the option of adding flowers, jewels and other accoutrements. Some of the best occasions to wear a romantic hairstyle are:
On a date
To a wedding
An anniversary
A birthday
A night out
To a cocktail party
A reunion
For a graduation
And anywhere else you want to flaunt a timeless, ultra-feminine and elegant look!
Now, let's check out some of the best romantic hairstyles below. Click on the photos to see more views and try the hairstyle on!
Low and Loose Knot
If you are craving a sweet and seductive hairstyle for more formal occasions, a low and loose knot is ideal. This hairstyle can be created on medium to long hair, and looks best with some waves and curls added in. The key to perfecting this look is to keep it loose. Secure your knot/chignon at the nape of the neck either at the back or side.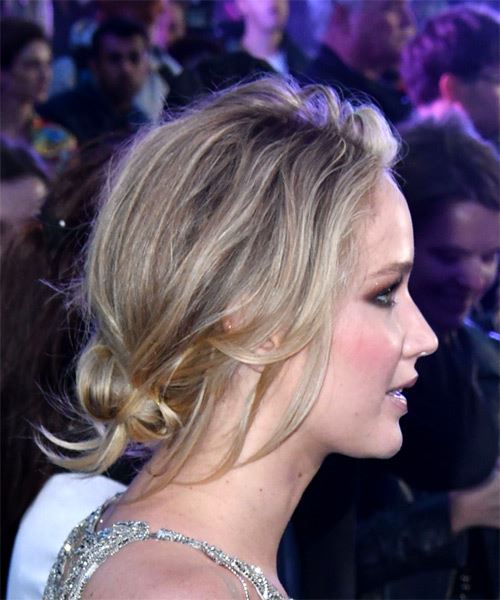 Jennifer Lawrence looks elegant in a low knot that has been wrapped into place at the back of the neck. Jennifer works with her hair's naturally wavy texture here, leaving it loose so her waves can poke out and frame her face. The windblown finish is gorgeous and gives Jen an ethereal look. You do not have to worry about hairspray for this look as you want this hairstyle to look natural and effortless. If you are worried about the knot coming undone, all you need to do is add a few more bobby pins to secure the look in place.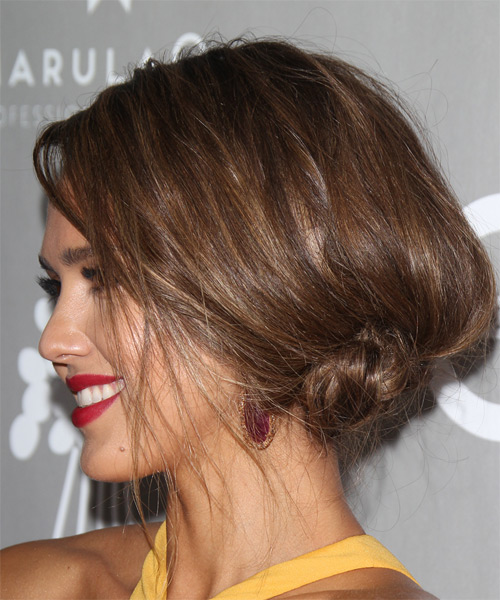 Jessica Alba perfects the low knot look here and goes for an edgier vibe by teasing her straight hair for a textured, pokey finish. This is a great option for women with straight hair who want to flaunt a chic yet elegant and romantic hairstyle. This hairstyle is great for any occasion! The nice thing about this look is that it will not take you long to style and if you have a few pieces of hair falling out of this hairstyle, it's ok as you can make it look like it was done on purpose. Have fun with this style! You can do it with straight hair or with waves.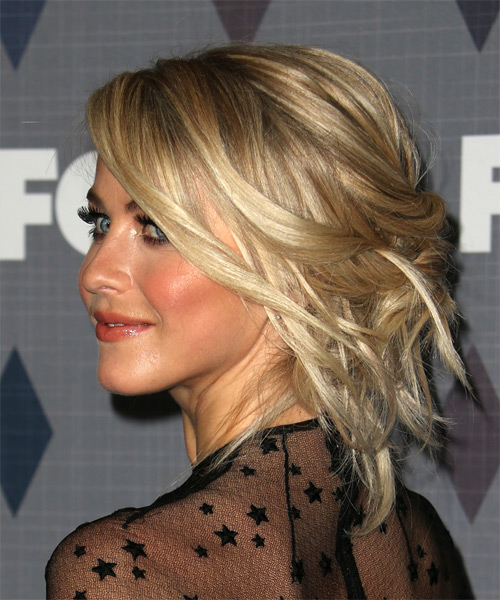 Julianne Hough's romantic hairstyle gives new meaning to the term 'loose' here, as her platinum blonde locks are barely held in place at the nape of her neck with pins while her ends poke out, showing off her gorgeous waves. This is a youthful and fresh take on the romantic low knot look. I love this look as it has a carefree kind of feel to it and at the same time, looks like it has been styled by a professional. If you are the type of person who loves to have fresh new hairstyles but does not have the patience to make sure that the hairstyle is precise, then this is the hairstyle for you!
Silky Waves
If you fancy wearing your locks down and want to give off a romantic look, opt for perfectly coiffed waves that have been brushed through with a paddle brush for a smooth and silky finish. The key to perfecting this look is to keep the waves cohesive (rather than piece them out), and make sure your ends are curled too (rather than have them pokey like a beach-wave look). Finish off the look with some hairspray to ensure that your waves stay in place throughout the day.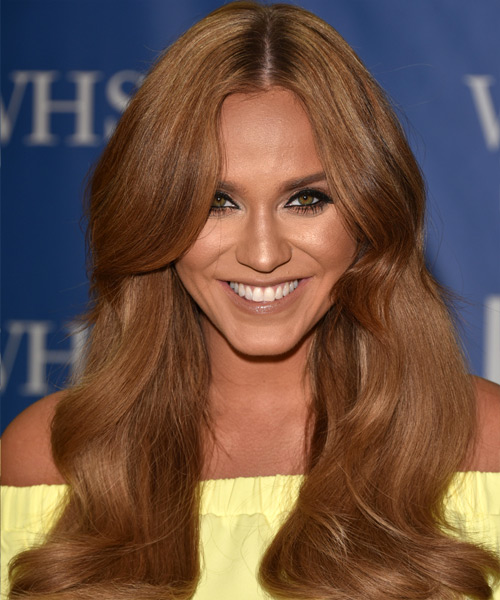 Vicky Pattison shows off her silky caramel waves here with fabulous results. This romantic hairstyle can be achieved by using large Velcro rollers and brushing the hair out with a paddle brush to finish. The nice thing about this hairstyle is that you can sleep with the rollers in overnight so that you get amazing waves in your hair for the next day. There is not a lot of styling done with this look but the end results look like a million bucks!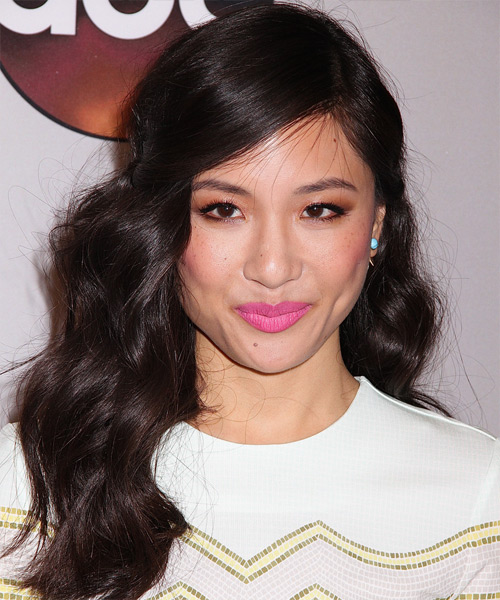 Here, Constance Woo goes for a deep side part and voluminous silky waves for a stunning look. Her jet black locks look healthy, shiny and ultra romantic. Try using bobby pin at the side of the head to create a side-swept fringe look as Constance has done here. Overall, this look is sexy and mysterious. You will have your date staring at you all night long with this gorgeous hairstyle.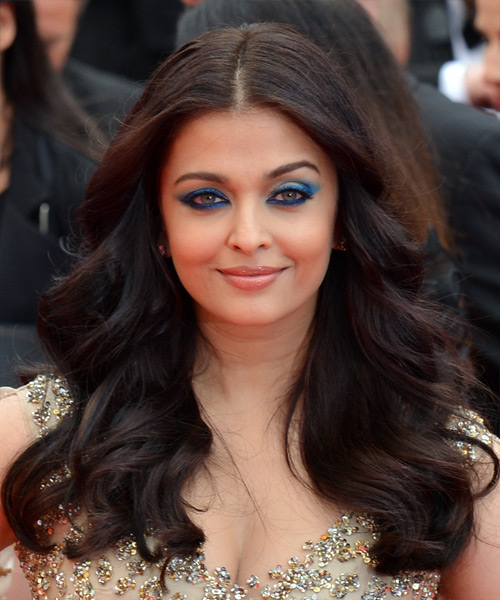 Aishwarya Rai goes for big, voluminous silky waves here with show stopping results. Her centre part and outwards-facing curls gives this romantic hairstyle a beautiful sweeping look. This bold look matches a big and bold personality. You want your hairstyle to match your personality so if you are the type of person who is outgoing and adventurous, let this hairstyle share that for you. You are going to need to use a bit of hairspray to ensure that this hairstyle stays in place throughout the day and/or evening.
Crown of Braids
This hairstyle is more time-consuming to create but the results are well worth it. A crown of braids is a stunning way to create a romantic look with a touch of royal flair added in! This will work best on long hair but a braided crown can be added to shorter hair lengths by using a pre-made hairpiece. Embellish this look with flowers for a bohemian chic look. Keep in mind that the braids in the styles below are going to hold better if you style your hair a day or two after you have washed your hair. Freshly washed hair will be too soft to style nicely.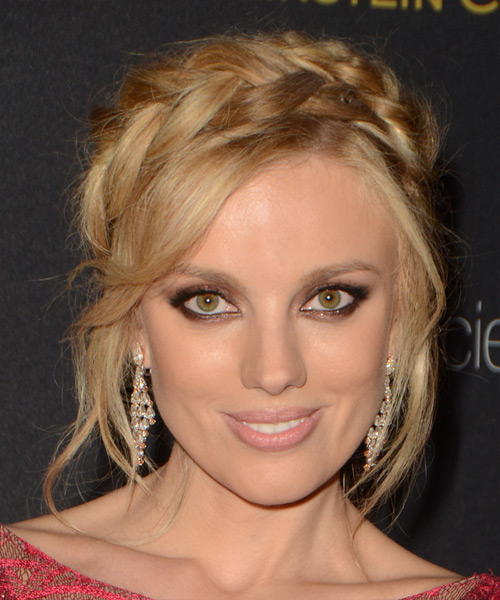 Bar Paly looks amazing here in her golden braided crown. This crown sits towards the back of the head allowing the bangs and layers in the front to frame her face and complete this look magnificently. The whole 'do has been done in a loose style for a soft and feminine finish.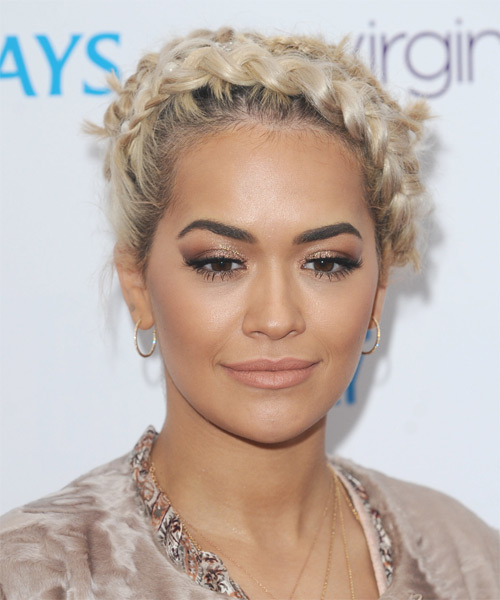 Rita Ora sweeps her icy blonde locks into a gorgeous crown braid here with fabulous results. Rita has used long hair pieces mixed with her natural hair to create a double row of braids at the crown of the head. Rather than leave some tendrils of hair out around the face, she has swept all of her hair up for a clean and polished look.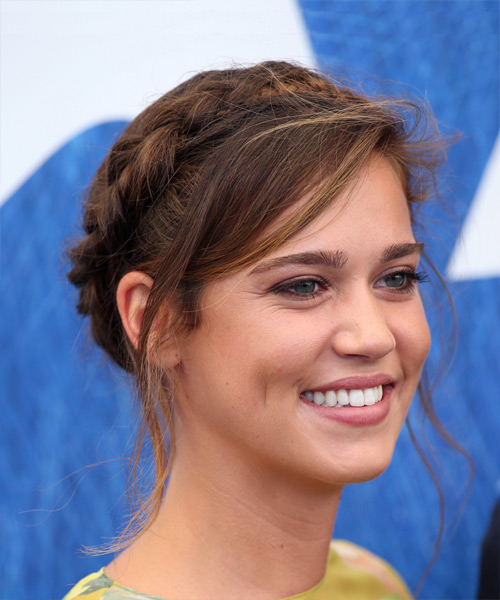 Matilda Lutz looks lovely here with her brunette locks swept up and braided into a crown. She has left her side-swept bangs out to frame her eyes, plus some longer wavy pieces around the face and ears for a soft and elegant finish. You can add a nice, fancy clip at the back of this look to give you an edge. Keep in mind that the braid will stay in longer and better if you style this look a day or two after you have washed your hair.
Rolls, Braids and Twists
Rolls and twists are a quick and easy way to sweep the hair back into a flawless romantic hairstyle. To create this look, use your normal parting and then braid, twist or roll each side back and secure into place. You can get creative with this type of romantic hairstyle and tuck flowers, accessories or jewels in for extra flair. Wavy and curly hair is ideal for these types of romantic hairstyles.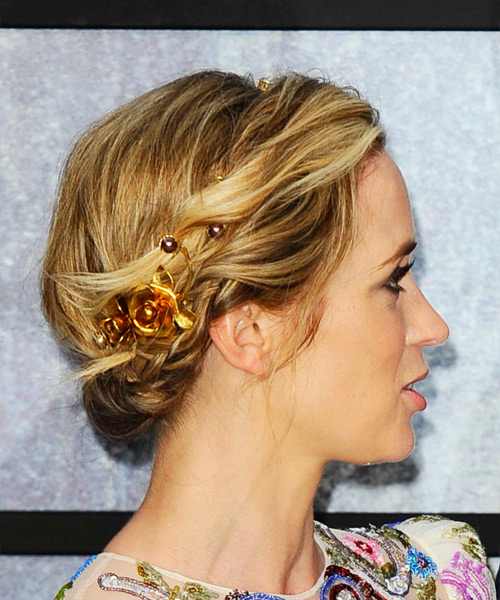 Emily Blunt looks gorgeous here in this low, rolled hairstyle that shows off her wavy blonde locks. She has added a golden hair accessory and diamante headband for a flawless finish. If you are going to add accessories to your look as well, make sure that your hair accessory matches your jewellery and purse that you wish to use for your romantic night out. If you are worried about this style falling out throughout the evening, you can carry a few extra bobby pins in your purse just in case.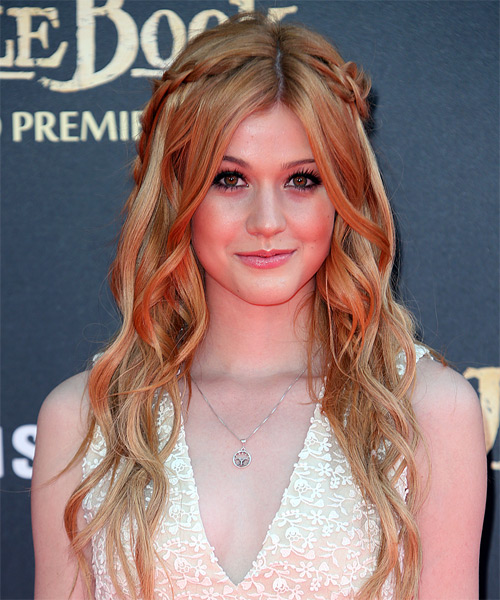 Katherine McNamara perfects the romantic look here with long, flowing waves and loose braids at the crown. This semi-updo looks gorgeous and is a fabulous way to show off her long, wavy locks. The braids can be replaced with rolls or twists if desired. You can place a few diamond pins to the braids to take this hairstyle to the next level! This is a fun hairstyle that still looks sophisticated and pretty at the same time.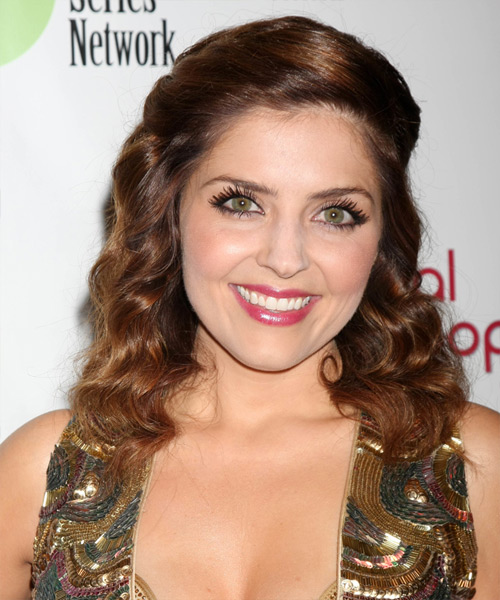 Jen Lilley combines two romantic looks into one here with this hairstyle - silky wave with a twist! Her auburn locks have been waved then brushed through for a glossy finish, with the front section twisted and pinned to one side. This hairstyle is a great option for ladies who want a romantic look with a vintage vibe. This hairstyle is elegant and yet the waves add some fun and bounce to the overall hairstyle.
Romantic Makeup Tips
You can never go wrong with a bright bold lip when it comes to an evening look.
A Smokey eye is a must have if you want to ensure that your makeup matches the occasion. Nothing says sexy like a Smokey eye that catches your natural eye color and makes your eyes pop!
Do not forget to highlight and contour your face and neck area. This is going to be the finishing touch to your makeup that is going to make it hard for your partner to keep their eyes off you!
You do not want to have more than one focal point on your face. This means that if you do a bold eye, then you want to do a more subtle lip. It is hard for someone to focus on too much at once.
Lashes are going to become your best friend for date night! False lashes are going to help you create those irresistible eyes that you see taking over social media pages. Make sure that you style your lashes on the correct side and that you keep some spare lash glue in your purse in case one decides to become loose during the evening.
Tips and Tricks
If you need some styling help for these looks, you can check out these video tutorials for some helpful tips and tricks.
Romantic hairstyles always have a place in your life! There are so many different ones to choose from. There are styles for people who do not want to spend a lot of time styling their hair and there are styles that are designed to be precise and take a bit longer. Take your time when choosing a romantic hairstyle. You want your hairstyle to tell a story. Your love story can be told if you just take a few minutes and find a style that is calling your name.
Please keep in mind that you want to choose a hairstyle that not only suits your personality and the occasion but you also want to make sure that you choose a style that suits your face shape as well as your hair texture. If you have wavy hair, do not try and hind that feature! Embrace your waves and find a style that is going to make your waves the star of the show.
Some might argue that chivalry is dead but that does not mean that you cannot choose a romantic hairstyle to make yourself feel and look sexy and irresistible! Once you find a romantic hairstyle that you love, you are going to try and find every excuse in the book to dress up and show off your dazzling new hair!