If you have a triangular face shape, you'll know that there are some challenges when it comes to finding the right hairstyle. Triangle faces have a chin and jawline area that is wider than the forehead and cheek area. (Note: This is not to be confused with the inverted triangle face shape that has a wide forehead and pointy chin.)
Your main goal will be to balance out the width of your jawline and flatter the narrow forehead, but have no fear, this is a lot easier than it sounds with the right hairstyle! And, you have options to choose from as well. Long or short, curly or straight, triangles can work a variety of looks. Let's check some of the newest hairstyles for triangular shaped faces out now!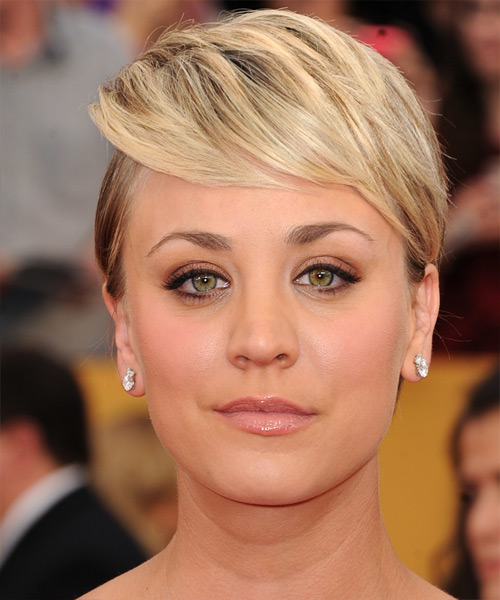 Short cuts like Kaley Cuoco's work well for triangles, especially with a thick side swept fringe and tapered sides. This hairstyle creates volume and height at the crown, which pulls the focus up from a heavy jawline - perfect for triangle face shapes. If you want to go for a short 'do, make sure to leave lots of length and texture at the top to make the most of your face shape, and also to provide you with maximum styling versatility.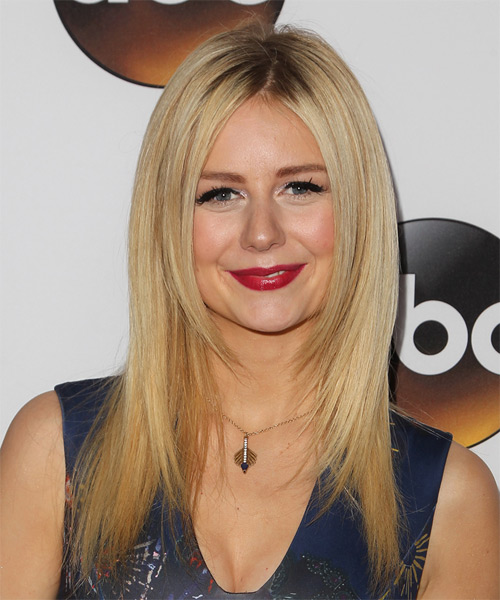 For triangle ladies who like longer hair, check out Justine Lupe's heavily layered hairstyle. While a centre part and long hair is not usually recommended for triangle shaped faces, this particular hairstyle works because of the heavy layering from the chin down. This creates a sculpted and moulded effect that camouflages a wide jawline and narrow forehead. The sleek texture is also very flattering for this face shape. To get the best results, stick with a monochromatic colour like Justine's all-over golden blonde shade for best results.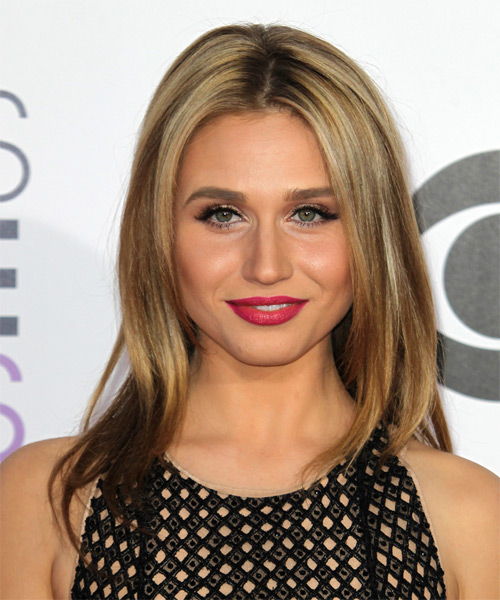 Here is another example of long hair done right for a triangular face shape. Rita Volk looks fabulous in long, slightly wavy layers that fall past her shoulders. This hairstyle has ample volume at the roots throughout the hair, especially at the crown of the head. This brings the focus up towards her eyes. The colour is another fabulous feature of this hairstyle with dark and light blonde pieces scattered throughout, which creates a multi-dimensional effect that looks great with her cut.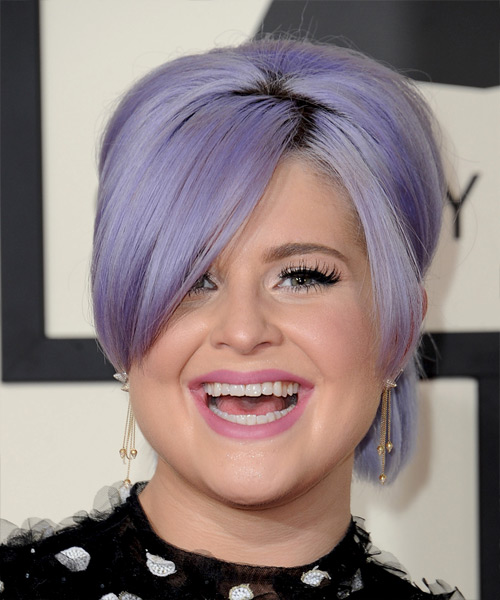 Kelly Osbourne has a hybrid of a round and triangular face shape, but this hairstyle will work great for 100% triangles too. Kelly has created some nice lift in the crown area through backcombing, before sweeping her hair back into a loose, low ponytail. (You can substitute the ponytail for a bun or chignon depending on what look you are going for). Kelly has solved the dilemma of the triangle shaped face too by wearing a thick fringe that is parted on the side and ends at the cheekbones. This lifts the focus up from the jawline and towards the eyes, which is exactly what triangles should be aiming for.
There are many more styles to suit triangle face shapes. Check them out here!