The whole point of a fashion like emo is to be different, so it's kind of pointless saying "this is what emo is" because by the time you decide on a definition, it's probably changed already. So instead of trying to define emo, I'm going to give you some ideas about emo and show you some ingredients of emo hair styles. If you're into emo you'll probably end up mixing together a few of these "ingredients" and making them into a "dish" specific to you.
For some up-to-date ideas of emo- probably written by emos themselves- check out Wikipedia. It says:
"The term 'emo' is sometimes stereotyped with tight jeans on males and females alike, long fringe (bangs) brushed to one side of the face or over one or both eyes, dyed black, straight hair, tight t-shirts (sometimes short sleeved) which often bear the names of emo bands (or other designer shirts), studded belts, belt buckles, canvas sneakers or skate shoes or other black shoes (often old and beaten up) and thick, black horn-rimmed glasses [...]. In recent years the popular media has associated emo with a stereotype that includes being emotional, sensitive, shy, introverted, or angsty. It is also associated with depression, self-injury, and suicide."
According to Wikipedia then, key ingredients of emo culture include black clothing (but unlike goths, emos are more influenced by skater fashion, like skinny jeans and sneakers), dyed black hair, and an emotional/moody attitude. Sounds like the perfect combination for your teenage daughter, doesn't it?
Dyed black hair is definitely essential, but look at any pictures of bands like My Chemical Romance and Hawthorne Heights and you'll see that emo hair styles are usually have other key ingredients alongside the harsh black (and sometimes platinum blonde) color. Long bangs are a common look- long, swept forward bangs. Also, emo hair styles are usually asymmetrical somehow (longer on one side than the other), with spiky/jagged ends. So you need lots of gel- applied on wet hair- and hairspray for hold.
Emo Hair Style Ingredients
Emo Hair Style #1: Gerard Way (My Chemical Romance)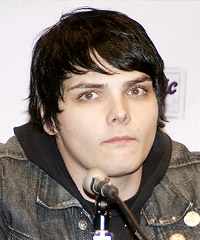 If you want to find a great example of emo hair styles, you can't really go past US band My Chemical Romance. Although the band claims not to be emo, it's generally accepted that they are a great example of (mainstream) emo fashion.
Lead singer, Gerard Way, is pictured here with an emo hairstyle with that typical "whatever" attitude about it. It's got the dark hair color, which in this case also adds depth and shine and a little bit of mystery to his overall look. This style has probably been razor-cut too- and that's important because razor-cutting eliminates weight and allows the hair to take its natural shape. A little bit of wax and smoothing shine is all you need to style a look like this.
Emo Hair Style #2: Mikey Way (My Chemical Romance)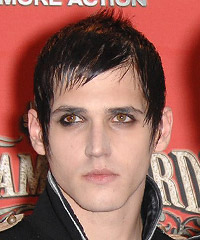 Mikey Way's short razor-cut is a great example of the wispy/spikey ingredient of some emo hair styles and so is the dark color. This is a good style for straight hair, and it's quite versatile too since it can be gelled smooth or worn spikey with some gel wax.
Emo Hair Style #3: Lisa Origliasso (The Veronicas)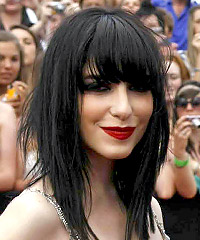 The Veronicas have also been spotted with typical examples of emo hairstyles. Lisa Origliasso, one half of the pop duo, is seen here with big, heavy, solid emo bangs almost covering her eyes. Her hair's jet black too, and heavily razor-cut with long layers through the mid-lengths to create body, texture and that messy emo effect. Styling only requires blasts of air with a blow-dryer and a bit of wax for a grungy finish.
Emo Hair Style #4: Pete Wentz (Fall out Boy)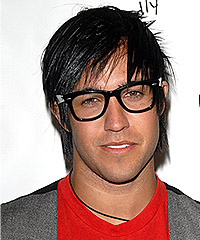 Pete's got the emo style horn-rimmed glasses, and with his hair's jagged ends, long bangs and black color, and with that cardigan topping it all off, he's pretty much the complete emo package (I bet his jeans are sitting snugly under his backside and airing his boxers nicely too). Go Pete! This style will work well with straight hair and needs only a little bit of product to style.
Emo Hair Style #5: The Emo Bob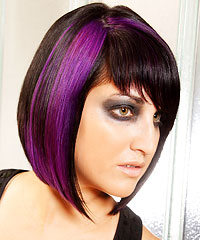 Our model demonstrates emo girls' (and guys) taste for heavy eyeliner, asymmetrical bangs, and contrasting blocks of solid color. This concave bob has been razor-cut at the edges to create a wispy look. The swept forward bangs, as well as signaling the model's emo image, also draw attention to her eyes and make this hairstyle more suitable for longer face shapes. The dark violet color with purple flashes adds to the style's alternate look and accentuates the wearer's care free attitude.
Emo Hair Style #6: The Emo Long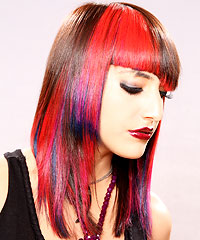 Here our model is wearing an emo hair style similar to Lisa's (from The Veronicas) since its focal point is also heavy bangs nudging the wearer's eyes. But the emo effect of this long hairstyle is also created through the 4 different (vibrant) colors used, the hairstyle's uneven shapes, and its jagged/wispy ends. It'll suit longer face shapes best, and anybody who dares to be a little bit different.
There are many elements of emo fashion and emo hair styles- skinny jeans, asymmetrical bangs, heavy blocks of vibrant hair color- yet the key to looking truly alternative isn't to subscribe to any one styling feature, but to use the "ingredients" noted here (and others) to create your own unique look.