Whether it's a quick touch up, your regular coloring, a hue change or a long overdue dose of color, these two tips are all you need to ensure your hair color results in a great look.
Hair Color Preparation Tips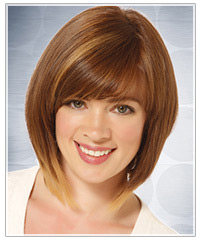 Try a hair mask 2 to 3 days before your salon appointment or before you plan to color if you're coloring your hair at home. It will get your hair strands into tip-top condition and make sure they're ready to take on your color and help to keep it.

Wash your hair with a clarifying shampoo the day before getting your color done. This will ensure all hair styling products and shampoo and conditioner residue is out of your locks. It's best to wash the day before applying your new hair color as it's easier for you or your hairstylist to see your roots in day old hair.
They might seem like obvious and easy tasks to try, but these two tips are very effective and won't even seem like work! Team them with the handy hints in our Stay Fresh Hair Color blog and you should have a great hair color every time you get your color refreshed, and in between your color touch ups too!
To find a hair color that will look great on you, check out our range of hairstyles today or use our virtual hairstyler to try on 50 great virtual hair color options.