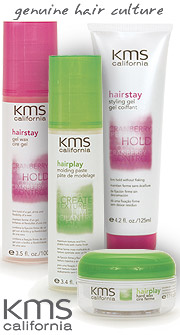 What sets KMS' products apart is that they have developed a special advanced system for selected products called IOPS (inside out perfecting system). This system allows the product to deliver powerful nutrients and deep reconstructive and conditioning agents into the core of the hair shaft which then builds up to the outside layer of the shaft to make the hair more vibrant and healthier looking from the inside out.
KMS California Hair Play - Moulding Paste
I found the moulding paste to be unbelievably easy to style with, making it easy to add definition and texture into my hair without giving my hair a hard finish. I used it two ways, in towel dried, damp hair and dry styled hair. I found it easy to create a range of styles from messy spikes to piecey flicks and was impressed with the matt finish the product gave my hair. Whether my hair was styled wet or dry, it also ended up with a good firm hold.
4 stars.
KMS California Hair Play - Hard Wax (Features IOPS)
I was surprised when I used the hard wax as it was easy to style and distribute through my hair. It was also great for towel dried hair and dry styled hair and added a smooth shine and a strong hold. I found it great for defining curls and piecing spikes. It didn't leave my hair too heavy and was easy to shampoo out and left no waxy build up.
4 stars.
KMS California Hair Stay - Styling Gel
I found the mix of cranberry and peppers added into the ingredients a great change from the usual gel smell and learned that these ingredients also help to support my hair as well as protect it from the environment. The styling gel was great for creating men's styles and for assisting in smooth sleek upstyles because it gave my hair a strong hold with a natural, shiny finish. I also found that the styling gel left no build up or flakiness once shampooed out, giving me the freedom to restyle my hair without a 'tacky' feel.
4 stars.
KMS California Hair Stay - Gel Wax (Features IOPS)
The gel wax was a pleasure to work with and gave my hair good gel-like hold with the pliability of a wax. Having this option means that this product is great to use in any style, from spikes to curls to upstyles. It gave a strong gel hold when applied to damp, towel dried hair, and when used after towel drying my hair and blow-drying it into a style, it gave my hair a fabulous medium hold and endless styling options. Because of this, it is a great product for anyone who loves regularly to change their hairstyle.
5 stars.
KMS California products are salon only products, so please see your stylist to find out more.