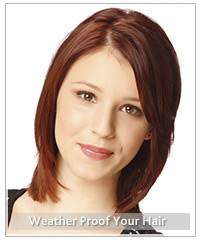 It's not just your hair characteristics that determine how well your hair is behaved. Outside influences, such as the weather, can have a big impact in regards to your curly hairstyle lasting the day in humid conditions, or cold winds causing your updo to fall flat.
To ensure that your hairstyle will outlast anything Mother Nature can throw at it, and that your locks are protected against hair damage, give these hair care tips for every season a try.
Choose a Weather Proof Hairstyle
Choosing a hairstyle that goes with the season will help to keep your strands in tip-top condition and ensure that your style stays in place and looks good.

Plaits are great for protecting your hair from environmental damage as they keep the ends of your hair tucked in and away from the heat of the sun, cold temperatures and wind. They also create a pretty, romantic look which is great for spring or summer.

A ponytail is ideal for keeping hair frizz under control when winter weather wants to wreak havoc with your locks.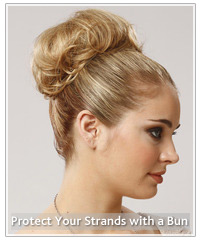 A bun is an essential hairstyle for all seasons as it will protect most of your hair, especially the more damage prone ends. For the best protection, tie your hair into a ponytail and then tuck your ends up into the bun and then spritz your locks with a UV protector. A UV protector should be used all year round regardless of the season as UV rays can still get through clouds and rain. If a bun becomes your regular style just remember to try a range of different positions (the back of your head, the top of your head, side-styled etc) so you're not always tying your hair up in the same spot and weakening your strands.

Summer days spent at the beach are just made for scrunched natural waves and casual top knot updos.
Get Some Help from Your Hair Styling Products
Your hair styling products will not only help you to keep your hairstyle in place, they'll also protect and nourish your hair.

To help control frizz brought on by fall and winter rain or summer humidity, mist your hair brush with hairspray and then brush it through your hair.

A leave in conditioner can help to protect and nourish your hair when it's exposed to the sun and harsh winds so make sure to spritz some in before heading outdoors in winter and summer.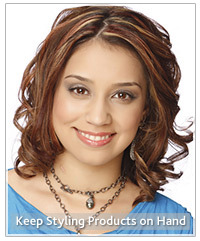 Keep travel sized hair products like dry shampoo and hairspray in your bag to help fix any hair disasters that might occur after leaving your house, being out in the elements and then arriving back indoors.

Use serum based products to combat frizz and fly-away hair strands in humid summer conditions.

When you're hitting the pool or beach during summer, smooth hair conditioner through your hair first. It'll act as barrier for the drying effects of chlorine, salt water and the sun.
Protect Your Hair Strands
To really keep your locks protected from the weather, nothing beats these tips…

Stock up on scarves. They will protect your hair and scalp from sun damage during spring and summer and will keep your hair neat and in place under hats, or shield your locks from the wind during fall and winter.

Remember to use a swimming cap or rinse your hair with water before getting it wet in the pool to help reduce chlorine damage, and to always wash your hair with clean water and/or shampoo as soon as you can after swimming.

To protect your locks during winter, and to keep yourself warm, give hats and beanies a try.
With these tips you should be able to take care of your hair during the seasons!