Every bride wants to look her absolute best on her wedding day. The dress, the makeup and the hair has to be perfect! There are so many beautiful wedding hairstyles out there for every type of bride, but do you notice that most of them require long hair? We did! So, we compiled a list of gorgeous wedding hairstyles for ladies who have short hair. From bobs to pixie cuts, there is something for every bride to compliment her big day.

One thing to keep in mind is that with short hair you may have less options for up-dos, but you do have the opportunity to show off a beautiful tiara, earrings, hair clip or other accessory that will put a special touch on your look. Also keep in mind that with the right styling, short hair can mimic up-dos that are done with longer hair. So if you crave a hairstyle that requires long locks, don't worry because there are ways to recreate this with shorter tresses.

Now let's take a look at some of the best wedding hairstyles for short hair!


Vintage Hollywood Glamour
For a bride who wants a classic and glamorous look, going for an Old Hollywood hairstyle will work beautifully. This will suit brides with sophisticated gowns that have a simple silhouette. For a red-carpet ready look, check out these vintage hairstyle ideas for short hair.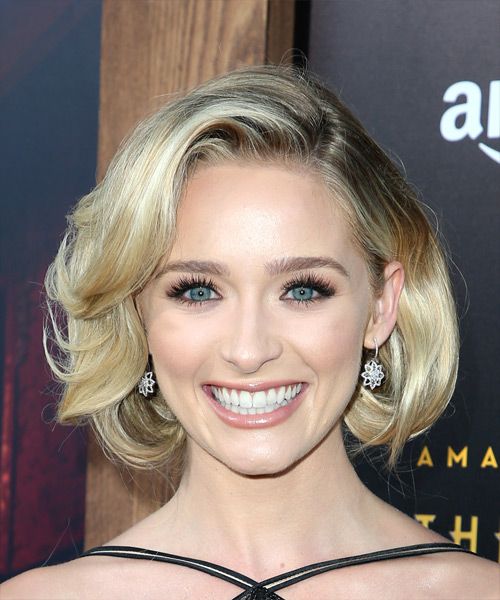 Greer Grammar transforms her short bob with pristine curls and a side-swept fringe. This meticulously coiffed 'do creates a polished finish for any bride and is ideal for showing off a great set of diamond earrings. This hairstyle would suit strapless gowns very nicely and dresses with a vintage twist.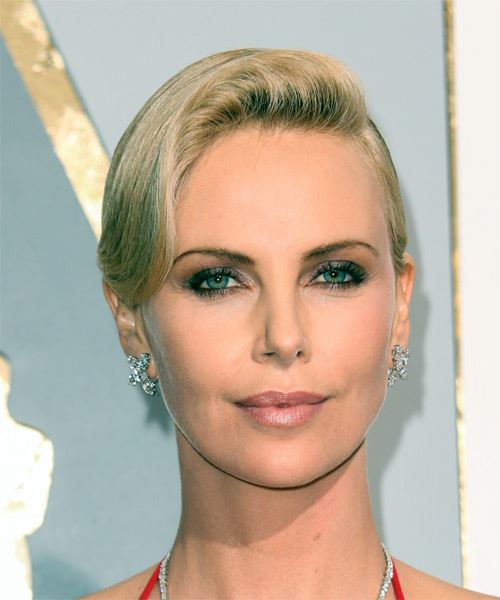 Charlize Theron nails the Hollywood vintage look here with a deep side part and waved front section. This is a wonderful way for ladies with short tapered hairstyles like pixie cuts or shags to create an elegant formal look. This 'do will keep the focus on the bride's face and earrings, and is good option to wear with a tiara or veil.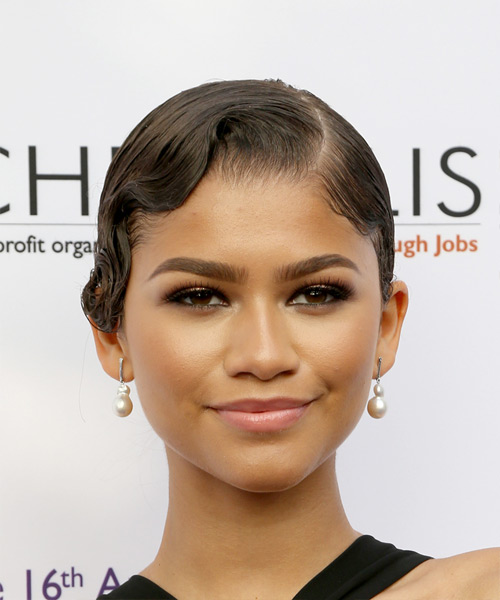 Zendaya Coleman rocks finger waves here for a head-turning look. Her hair has been parted deep on the side and finger waved into place while the back has been pinned at the nape of the neck. This is an option for brides with bobs or short layered hair. Brides that have their hair tapered at the back and nothing to pin up can go for finger waves all over for a stunning Twenties-inspired look.
Sixties Mod
If you have a pixie cut then chances are you already have a cool and confident style that makes you stand out from the crowd. To jazz up your 'do, you could go for a sweet retro look for your big day that has a Swinging Sixties vibe to it. This hairstyle will suit brides with A-line gowns, romantic lacy numbers and will also work with a modern bridal gown.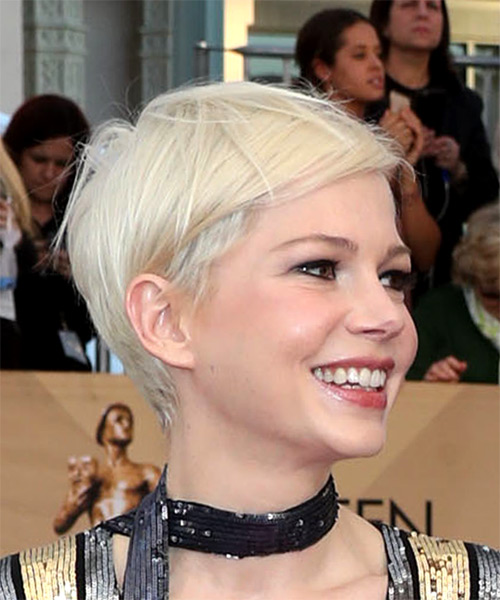 Michelle Williams looks lovely here in a platinum blonde pixie hairstyle that would look amazing worn as a short bridal hairstyle. The simple cut, soft layering and baby blonde hair color combine to create a stunning and feminine look. This hairstyle suits simple gowns and vintage dresses.

Jennifer Hudson looks oh-so-chic here with her layered pixie cut that brings all of the attention to her fabulous facial features. This 'do is reminiscent of Twiggy's signature look in the Sixties and will suit modern, vintage and retro-inspired wedding dresses.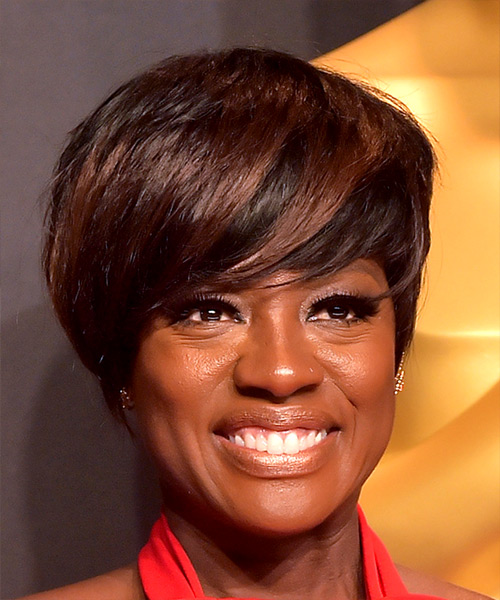 Viola Davis' Mod cut is another example of how to flaunt a pixie cut on your wedding day. Her long side-swept fringe creates a gorgeous face-framing hairdo that oozes style and glamour.
Swept Back / Swept Up
If you have short hair and want to wear your hair completely up, it is possible! These romantic looks give the impression of long locks and can be achieved in short hair with the right styling tools and tricks.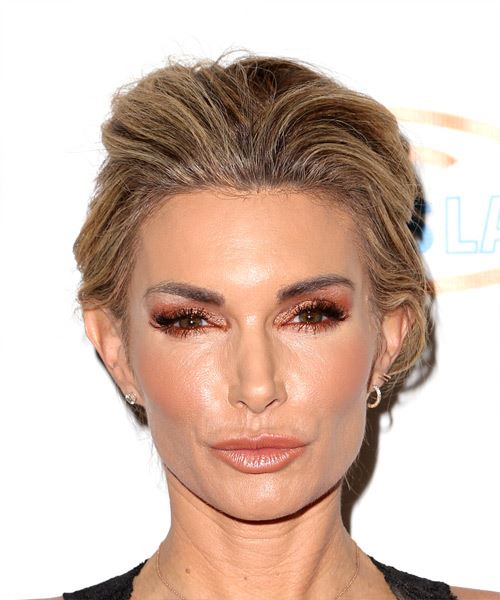 Eden Sassoon flaunts a stunning hairstyle that is swept off her face with added volume on the top and sides. This is a gorgeous 'do that would suit brides who are wearing a low veil at the back of the head nicely.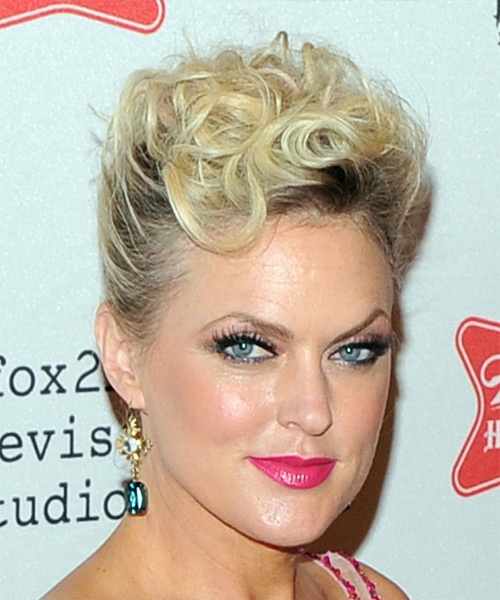 Elaine Hendrix sweeps her short hair up and pins it at the crown for a head turning up-do. This hairstyle is ideal for short curly hair suits extravagant and sexy bridal gowns.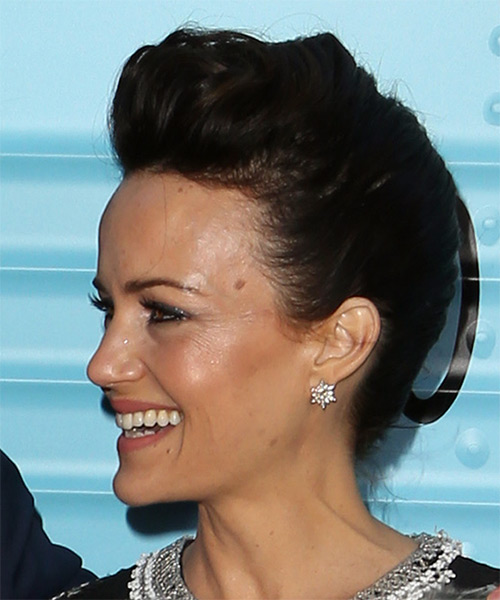 Carla Gugino sports a high volume 'do here that is ideal for brides who want a classic and elegant upswept look. This hairstyle would suit brides who have an elegant and modern gown.



Curls and Waves

Ladies with short curly/wavy hair can embrace their hair texture on their big day and think about accessorizing with pins, clips or flowers. A short curly/wavy hairstyle can be as simple or flamboyant as you like. Daring brides can opt for big volume curls while those who want a simpler look can go for subtle waves.

This curly short hairstyle would look amazing for a wedding--just imagine those red locks paired with a crisp white dress! Regardless of hair color, this hairstyle is perfect for ladies who just want be themselves and let their natural curls do their thing on the big day.

Another option is to go for a feminine flapper-esque hairstyle with short curls, a deep side part and a pin to keep the hair in place at the temple. This hairstyle is ideal for showing off a gorgeous hair clip or barrette and would suit a wide range of dresses from vintage to modern.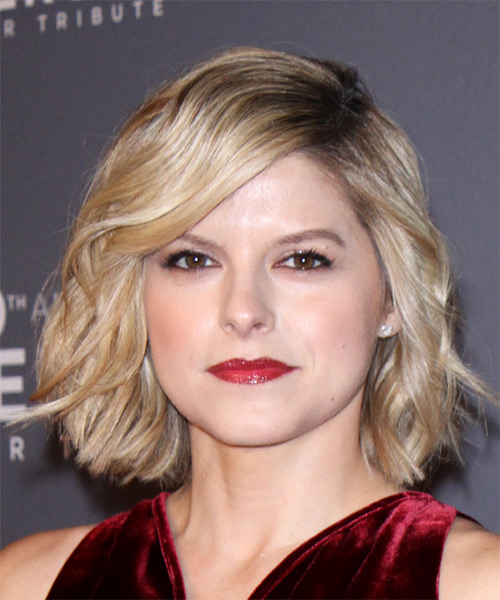 For those who love waves, this simple wavy bob is a sweet 'do for the big day. Kate Bolduan flaunts a softly waved bob and deep side part for an ultra feminine, romantic look. This would suit traditional brides nicely.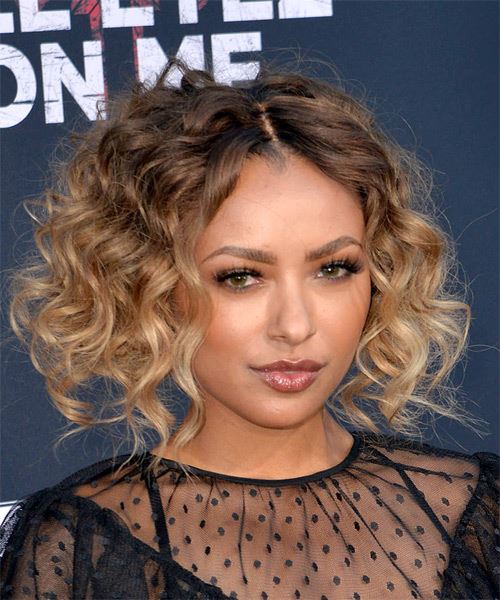 Kat Graham looks simply cherubic in her curly bob that is parted in the center, framing her face with her large corkscrew curls. Kat's lighter blonde tips add softness and style to her 'do, which would suit a variety of dress styles.



Braided

If you have short hair but want to add a little extra something for your big day, you may want to try a braid. These can easily be incorporated into short hair, and can also be helped along with hairpieces for a more dramatic look.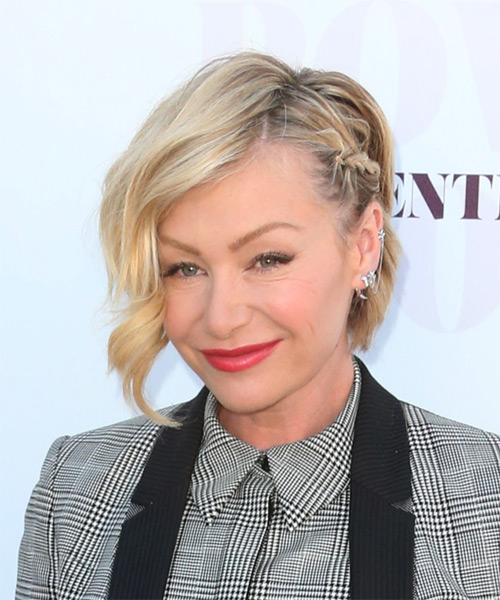 Portia de Rossi sports a short wavy bob with a braid on one side for a quirky wedding hairstyle. This would suit brides who are unconventional and looking to add a bit of edge to their look.

Ruby Rose sweeps her short hair up and completes her crown braid with the help of a hair piece. Ruby has gone for a teal green piece for extra edge which would suit fashion-forward brides. Ladies who want something more traditional can match their own shade of hair for a seamless finish.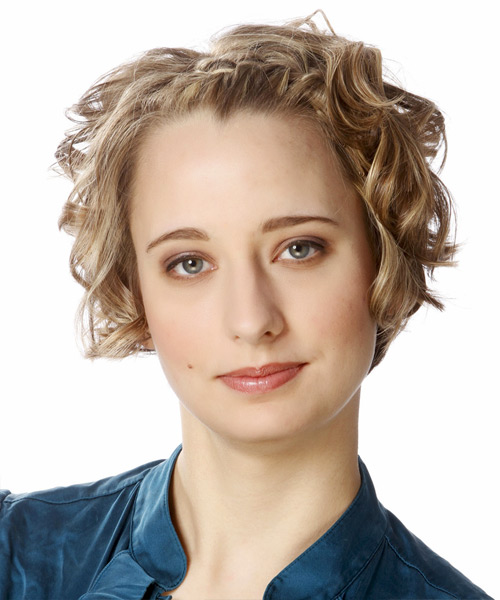 Another variation is to braid the front section and curl or wave the rest of the hair. This short wedding hairstyle is ideal for brides who want a traditional or romantic look on their wedding day.


For more hairstyle ideas, check out these videos: