Choosing the right makeup products can be a difficult task. Not only are there many different formulas to take into consideration, there's also the tough choice of picking the right shade. After all, there's nothing worse than spending your cash on makeup, only to get it home and realize it doesn't suit you at all!
To help you avoid such a problem, we've put together a guide for the makeup colors that are flattering across all skin tones. That way, no matter what blush, eye shadow or lipstick option you choose, the color will suit you.
Eyes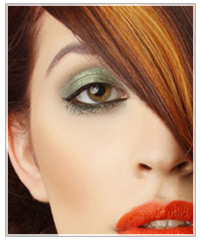 For an eye shadow that looks fabulous, opt for one of these choices:
Brown – especially earth inspired tones. This is the ultimate universal shade and suits everyone.
Bronze Gold – bronze is also a great shade that suits most, just ensures it's not too yellow of you'll risk a sallow looking finish.
Green – go for moss-like shades with a hint of yellow or brown.
Navy – think royal blue tones for a look that pops on both light and dark skin tones.
Neutral Nude – a neutral, buttery nude shade will still allow your natural skin color to show through, but with a touched-up finish.
Lips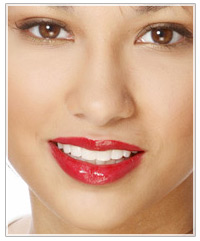 To get the perfect pout, select from these lipstick colors:
Browny-pink – a brown lipstick that has the tinge of pink to it will give you a natural looking lip tone.
Coral – with some warmth from the hit of orange, and coolness from the hit of pink, coral is the perfect neutral lippie!
Fire Engine Red – while certain tones of red go better with cooler and warmer skin tones, fire engine red gives big drama to light skin tones and a soft hit to darker tones.
Nude – a nude lipstick is perfect for all skin tones, and for those who don't like a lot of color on their lips but still want to look a little polished.
Sheer Berry – berry lipsticks are great for a pop of color, but the color should have sheerness to it to ensure that it'll work for all skin tones. If it's too bright, tone it down with lip gloss.
Translucent Pink – same rule applies for a pink lipstick hit. Keep it translucent for the most flattering finish and to allow enough of your own natural lip color to show through.
Cheeks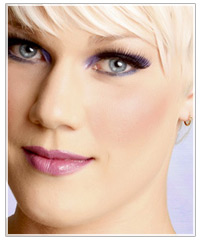 For a hit of color to bring your look together, give these universally flattering blush colors a try:
Earthy Pink – a pink blush that has a brown base will instantly give you a neutral, natural flush.
Peachy Coral – a peach or coral or peachy coral blush will add a glow to darker skin tones, and a romantic touch to a fair complexion.