When your haircut includes a great feature like layers, it's only natural to want to make sure it's shown off to its best advantage, and that's where these makeup tips come in handy!
Layers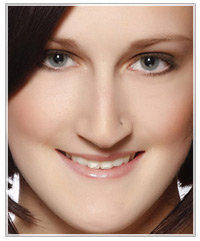 Layered hairstyles can bring a lot of attention to the centre of your face due to the length and cut of the layers. To bring out the best in your layers, try highlighting your cheekbones.

Keep your base neutral with an even layer of complexion matching foundation and then apply a rose colored blush in small round circles over the apples of your cheeks (smile to find the apples). Make sure the blush is blended well and there are no harsh lines or obvious circles. Finish your great cheek look by lightly tapping a small amount of pink-shaded highlighter on the highest point of your cheekbones with your fingers.

To ensure your cheekbones are front and center and compliment your layers nicely, keep your lips and eyes pared down. A simple sweep of earthy brown eye shadow, one coat of mascara and a clear or pink-tinged lip gloss should do the trick.
To see how you'd look with the salon hairstyle pictured in this article, click on the above image to try the virtual hairstyle with your own photo!