Men, this one's for you. There's heaps of men's style websites out there right now, and they're all chucking their two cents worth in about what men should be wearing, thinking and doing in 2009. TheHairStyler.com caters to the men out there too, so I thought I'd put together a list of five of the "essential" things these websites are saying men need right now, and I'd like to know if you agree.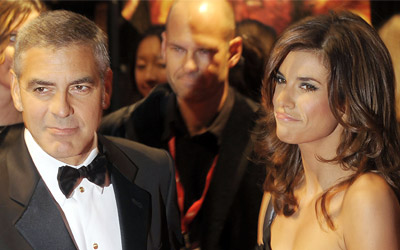 1. Men need a little more George Clooney in their lives.
This guy can do no wrong: he's suave, he's a humanitarian, he makes good movies and he dates younger Italian women (but he never gets too serious). The word on the street is George is a man's man- he's a role model to us all. Heck, I bet Brad Pitt even lets Georgie put his brogues on their coffee table.
2. Men need to "man up."
I think it was GQ or Men's Style where I came across an article explaining a new call for the contemporary male to "man up." It was pretty much explaining a move towards hyper-masculinity, where guys are growing their chest hair back, trading their hatchback cars, drinking beer again, getting back in the barber's chair and encouraging their sons to play rugby. What do you think? Ciao ciao metro-sexual!
3. Men need to invest in a double-breasted suit.
They're back and I new if I hung onto mine from the early 90s I'd get a chance to wear it again to a wedding or something. If you're an Australian, or maybe just if you're interested in the minutiae of mid to late 90s Australian politics, you might remember how the the ex-PM, Paul Keating, was a massive ambassador of the double-breasted suit. He certainly wore them well, but if you're thinking of bespoking yourself a new one then choose a slimmer fit than Mr Keating with thinner lapels and a jacket that's a little shorter.
4. Men need to sport a four-in-hand tie knot.
Gentlemen: throw out your skinny mod ties and move on from the chubby Windsor knot (and the garishly stripey shirts with cutaway collars too). I hear that this season is all about the four-in-hand tie knot, a skinny/narrow and slightly asymmetric knot that works well with dense fabric ties. Basically you wrap the wide end of your tie twice around the skinny end, tuck up and through and then tighten. Easy.
5. Men need sleek and neat slicked back side part hairstyles.
Yes, gone are the days that a sleek and neat hairstyles were for 12 year old school boys with long socks or privates in the army. Slick, tidy and tailored hairstyles are all the rage for the most fashion conscious gentlemen today. Lose those textured spikes, get that mod hair out of your eyes and invest in a Wahl Barber Comb- 'cos you're gonna want a razor sharp side part. Want inspiration: look no further than George Clooney (see point 1, above) and Leonardo DiCaprio.
Do you agree with these "essential" things? Add your comments below.