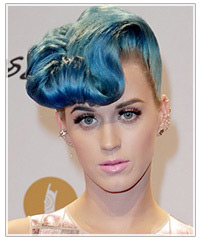 With regards to the style—we won't even go there…that's another blog post on its own! But ladies take note –the next time you have a craving to do something cra-zay with your hair, such as dying it blue…don't! Even Katy Perry and her team (yes, a full team) of hairstylists can't maintain this color, so chances are us mere mortals would look ten times worse. In any case, here are the top three reasons not to color your hair blue (or any primary shade for that matter):
1. The hair damage! Katy is a natural blonde but prior to this color had raven black hair. Perry had to go through many awful hair color stages (like brassy orange) to get to light blonde before a blue could be applied. Even if you have blonde hair naturally, lightening your hair to a platinum shade is essential for bold colors, and that means damage.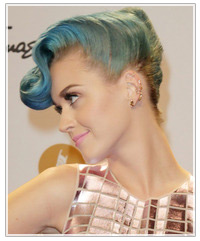 2. The fading! Perry looked cute when she first debuted her vibrant Smurf-inspired bob, but fast forward a few weeks and the color is looking washed out and uneven. This hair color needs to be topped up regularly to look decent, which means more dye and more damage- not to mention more time and more money as well!
3. The look of it! If you are Katy Perry and wear cupcake dresses, fine, you can pull it off. Same goes for teenagers going through their awkward stage and people who are in creative circles—artists, musicians, etc. For everyone else, wear a wig for day and get it out of your system! Your hair will thank you.