Red carpet hairstyles have been getting a little crazy lately, we've noticed. The smooth, sleek chignons of yesterday are now being replaced with wild, curly, half-up, half-down styles that scream for attention. We're loving the carefree attitude that these hairstyles convey, not to mention all that volume! And although these kinds of hairstyles look complicated to do, they're actually not difficult to create at home. Here is a list of tools and products that you will need to get a messy up-do:

• Hair dryer
• Heat protectant spray
• Mousse or root booster
• Curling iron, wand or hot rollers
• Hair pins
• Comb

Check out how these celebs created their messy up do, and choose the one that is right for your next event.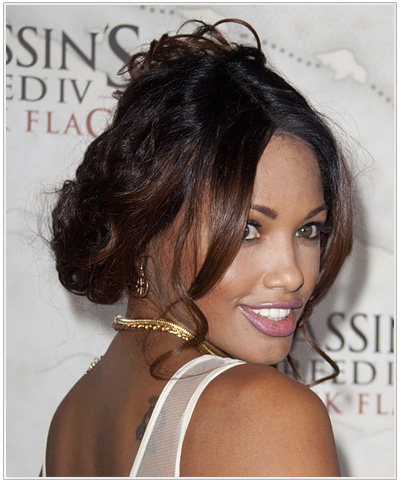 K D Aubert looks fantastic in this messy up-do that has long tendrils around the face. This is a great look for ladies who have a grown out fringe and medium to long hair.

To create this messy up-do, start by adding mousse and a root-booster to your towel dried hair. If you have wavy or curly hair, you can let your natural texture do its thing. If your hair doesn't have any natural texture, blow-dry it straight and sleek. Or, if you are really skilled at styling your hair with a hair dryer, create ringlets in your hair using a small-barrelled round brush. You may have trouble when it comes to the back section however, so ask a friend to help you out. Or, use the faster and easier method- a curling iron or wand, or hot rollers.

Create a centre part in your hair and roll small sections of your hair in the roller or around your wand/curling iron. Once all of your hair has been curled, it is time to start pinning it up. Start at the back of the head and grab a section of hair--approximately half of a handful. Twist the section around and around until you get a 'rope' effect, loop it and then pin the hair to the head. Make sure to pin it a couple of inches from the ends like K D has done (see her ends poking out at the crown of the head). Continue pinning sections of hair working your way towards the front. Leave out some long tendrils to frame the face just like Ms. Aubert has done here for a sexy peek-a-boo effect. If you find that your 'do is too tight after you have finished pinning it and want it to look more dishevelled, simply take a pick (or your fingers) and pull some strands out slightly near the roots to make it looser.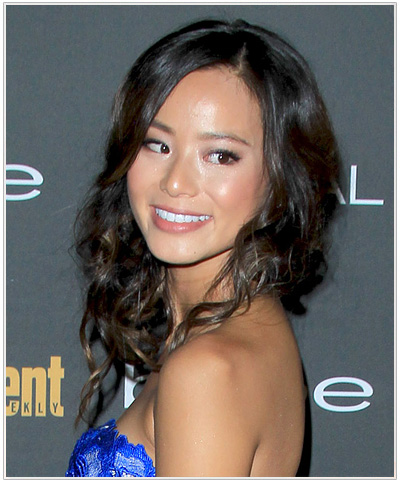 Jamie Chung is another young starlet who has rocked the messy up-do recently. This style can be achieved using the same steps as above, but pin the hair towards the nape of the neck rather than at the top. To get Jamie's softer look, pin the hair very loosely on the sides and leave a section out on either side of the face. Try using the section of hair that starts at the ear and ends at the face for best results.

As you can see, this messy up-do is oh-so-easy to create at home and is perfect for ladies who shy way from polished, pulled back 'dos.