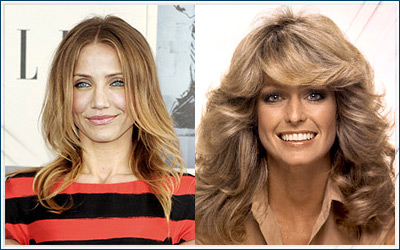 A big trend at the moment is the flicked layered hairstyle. It's a 1970s inspired look made popular back in the day by Charlie's Angels goddess Farrah Fawcett. A similar version has been seen around the traps lately on Cameron Diaz, who wears the flicked look particularly well. If you're keen on this hairstyle and you'd like to give it a go then have a chat with your hairstylist and bear these tips in mind.
One of the reasons the flicked look is a "classic" is because it's versatile and adaptable and can be made to suit a variety of face shapes. This hairstyle is especially good for longer face shapes because it effectively adds some width.
If your features are quite prominent then a wide part will help draw attention away from these aspects of your face.
The soft waves can be created using curling irons or large heated hair rollers. Irons are a little easier, but in any case don't forget to always apply heat protection products first.
A key element of this hairstyle is the way one side is flicked out slightly and the other curved under. You'll need to create a wide part and, starting on the widest side, use your irons to curve the ends upwards. Then, on the other side, use your irons to curve the ends under.
If you like the flicked hairstyle then check out similar hairstyles in "Layered Hairstyles: Pictures of Classic Hair."