The scenario: You're off on a night out and need the perfect updo to match your new killer outfit. The problem is, you're bored with the same old buns, twists and chignons.
The solution: A retro-styled beehive!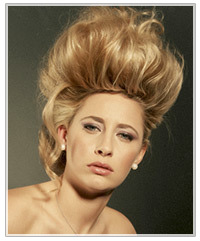 Ok, so this look isn't for everyone, but if you want to create some serious drama when you turn up at your next event—this 'do is for you.
How to get it: You will need to arm yourself with a good comb and tonnes of maximum hold hairspray. The style works best with hair that has some curl or waves to it, so if your hair is straight, bust out the hair rollers before you begin.
Once your hair has some body to it, start teasing the roots of your hair from root to end. The more teasing, the higher the beehive. Once your whole head is done, it's time to sculpt the hair into place.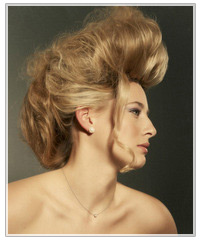 Our model's hair is loosely rolled towards the top of the head and then pinned into place discreetly. Do this is stages, smoothing sections of hair into place and spraying them heavily.
If you want to leave some hair framing your face like our model, go for it. Or you can sweep it all back for for a cleaner look.
Any way you choose, this hairstyle would have given Marie Antoinette a run for her money back in the day. Could you pull it off with just as much grace and glamour?