If you want to read more about the makeup in this photo, check out the blog: Fall 2012 Makeup Trends: Geometric Makeup. As for the hairdo, dust off those crimping irons because frizzy, funky hair is hot right now!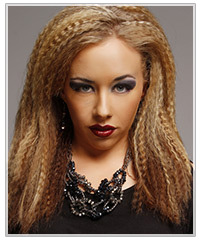 When it comes to crimped hair, the shorter the hair, the more wild the style will turn out. Our model here has long hair with grown out bangs, which works well with crimping. She also has minimal layers in her hair, which keeps it looking semi-smooth. Hair that is very layered can look a bit odd when it's crimped because all of the ends are accentuated and they do not blend together—just keep this in mind if you have your heart set on crimping your short 'do.
Another thing to consider is your fringe. What if you have a blunt Jessie J style fringe- do you crimp it or leave it straight? It's up to you and how retro you want to look, but it may be best to pin them back when you crimp your hair to eliminate face-framing frizz.
Now that we've covered the crimping basics, the only question left is: can you pull it off?