After years of long layered styles being the 'in' thing, in today's time we are going to be seeing more and more blunt, choppy haircuts, particularly in bob hairstyles. And if the Spring/Summer Fashion Week styles were anything to go by, we may even see wigs become the next must-have hair accessory next year. That's right-from Fendi to Marc Jacobs, choppy-cut wigs were the most talked about hairstyles on the catwalk.

Now, this could easily be a trend that never makes it past the runway. But even if we don't all start throwing on a wig before we leave the house, we will start to see haircuts become more blunt and bold. A blunt, bold, choppy layered cut shows that you know what you want and you are not afraid to go for it. It does require a bit of maintenance which will will explain how you can do this at home with ease, but it will all be worth it! So have no fear if you can't bring yourself to 'wig out' next year-take a look at these on-trend choppy cuts to get you inspired for a new style this year.
What is a choppy haircut?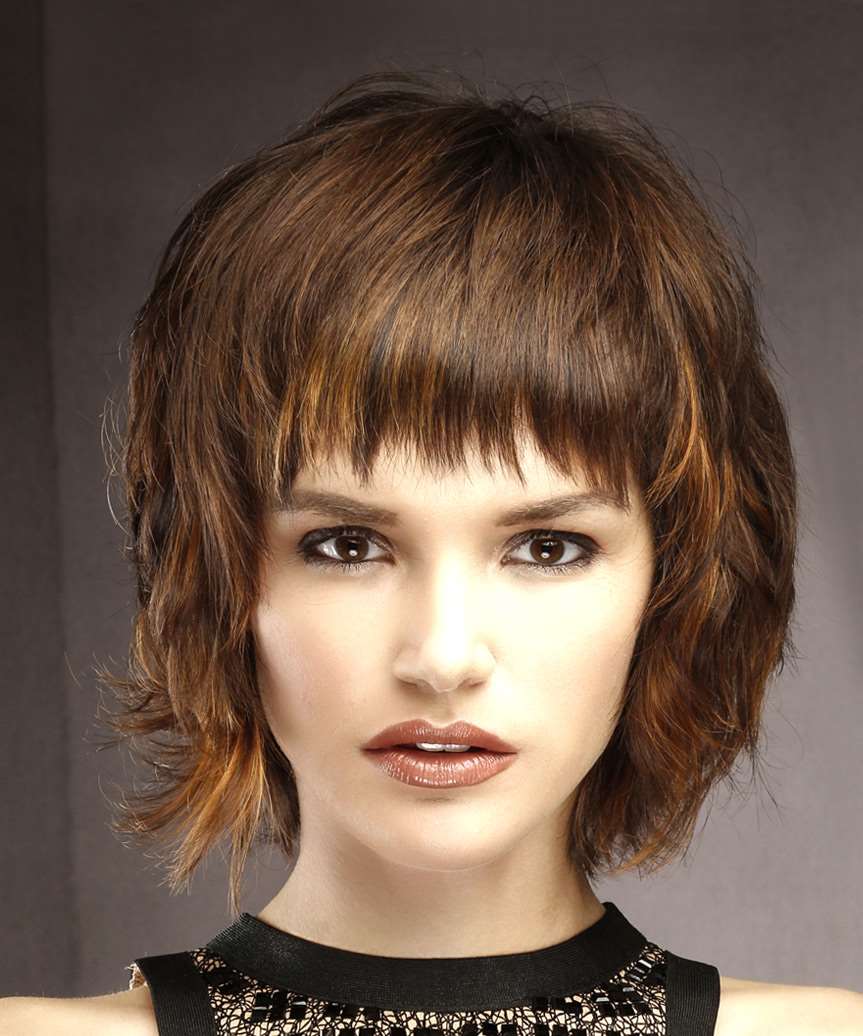 A choppy haircut is more about how you cut your layers in your hair and not so much about the full haircut. Choppy layers are a bold cut which is used to create volume, definition and movement in your hair. Your stylist will cut large chunks of hair in defined, yet uneven or asymmetrical proportions to create a blunt, edgy look. This style is modern, chic and requires some at-home maintenance.
Are choppy layers good for thick hair?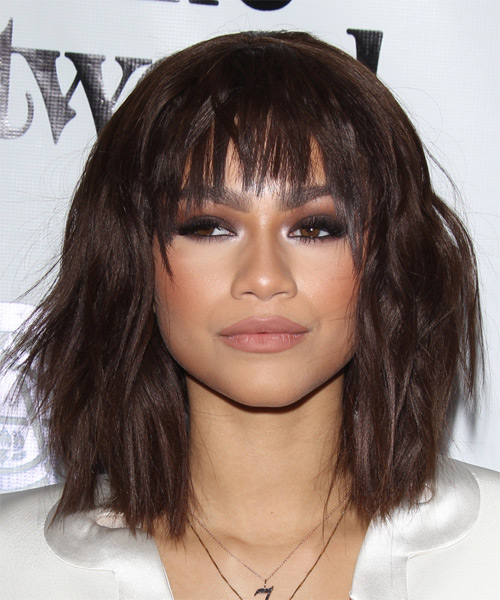 If you have thick hair, sometimes getting a straight cut can take away any life that you have in your hair. If you add some choppy layers into the mix, it can give you a weightless feel and you can still have your long hair length.
If you have thick hair and your hair length is short, choppy layers will also suit you because it will bring life to your haircut and much needed movement. You do not want your hair to just sit on your head and have no movement. The choppy layers will help give movement and will also make your haircut look more relaxed.
Will choppy layers suit you?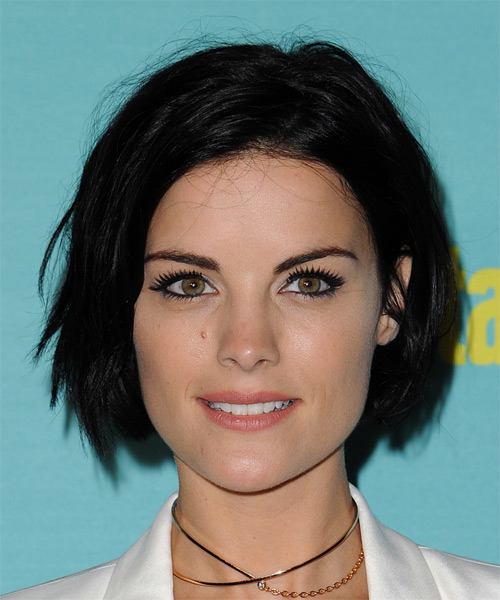 Choppy layers can suit anyone. The one thing that you need to keep in mind is that you should choose a hairstyle and haircut that is going to suit your face shape.
You also need to keep in mind that if you wear glasses, you do not want your layers to get in the way of your glasses. You must speak to your stylist and let them know that you wear glasses so that they can make sure that they do not add layers in areas that are going to get in the way of your glasses.
Can choppy layers be fixed?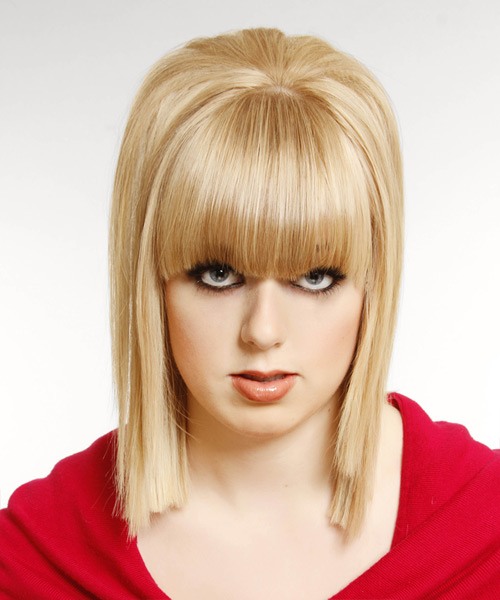 Sometimes. We get haircuts that we are just not happy with. Lucky there are ways in which we can fix this problem. Do not try to fix your layers yourself at home, because most of the time it ends in disaster.
If the layers that have been cut are not too short, you can re-cut and style the layers so that the style becomes something that you want.
Layers that are cut too short is a common problem of layered haircuts. Generally, people who choose this cut are looking to remove hair damaged by styling or dyeing without losing much length. The only way to fix this problem is to wait for your hair to grow if the layers are cut too short. You want to make sure that you go for a trim every 6 weeks so that you can style your hair nicely whilst you are waiting for the layers to grow out.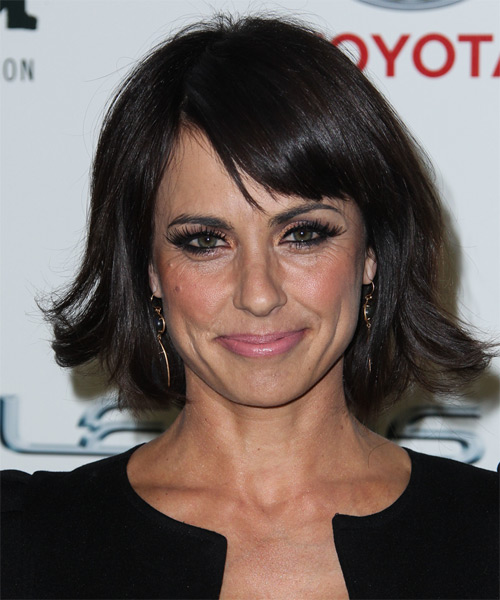 Constance Zimmer is working a choppy bob here, although she has curled the ends to give it a softer look. Although this cut looks great on her, to update it for this year, Constance should wear her bangs to the front rather than swept to the side, and use a flat iron to create a pokey effect with her hair. Adding wax to the ends can also help to separate them and give it a more 'wig like' effect, which is what we should be aiming for next year, according to the world of fashion. This hairstyle (worn straight) is suited well to most face shapes with the exception of square, triangular and rectangular.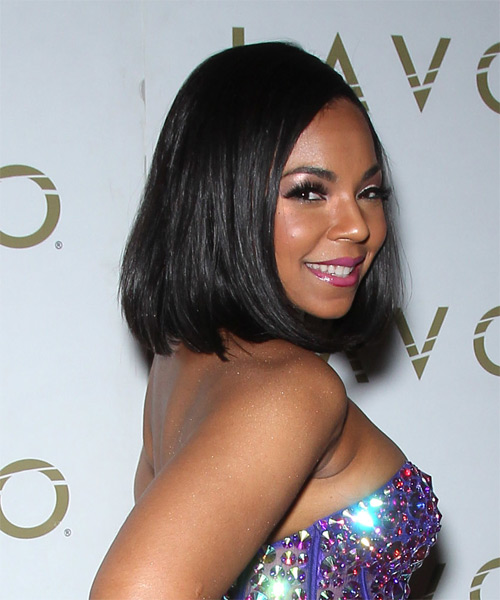 Ashanti has the right idea with this blunt, all-one-length bob that sits at her shoulders. This bold cut looks fabulous with her sleek and shiny black tresses and face shape. This haircut suits women with oval, oblong, square, and diamond shape faces best, so keep this in mind if you want to copy this hairstyle. One benefit of next year's choppy trend is that the blunt ends makes the hair look ultra healthy, and it is relatively easy to maintain.
The nice thing about this cut is that there are a lot of ways that you can style it. If you want to create more volume on the top to create the illusion of a fuller looking head of hair, make sure that you style your hair and then lift the roots up and place some product in your hair to keep it all in place. You could even curl this look and that way, your choppy layers can show more in the hairstyle.
Julia Stephens has the right idea with her choppy bob and heavy fringe. The only downside to the bangs is that glasses will not suit this look. Keep in mind that you will need to wash your bangs more often than the rest of your hair as the bangs fall across a place on your forehead that produces sweat and oil. You can keep dry shampoo with you for the days that you do not feel like washing your bangs.
This is a great option for women with oval, oblong and diamond shaped faces who want to rock the blunt and choppy trend next year. Julia's straight fringe creates a dramatic look as it skims the eyebrows and meets her bob, which has minimal layers to create a geometric, boxy look. Her bold makeup is the perfect companion to this hairstyle.
If you are going to add the highlights to your hair as well, make sure that you touch up the color once every 5 weeks or so to ensure that the color stays vibrant. You can also do a lovely two-tone with this hairstyle. That will mean that only the ends of your hair gets color. You will also be able to push your color appointments back a few days because you do not have to worry about your natural color roots showing.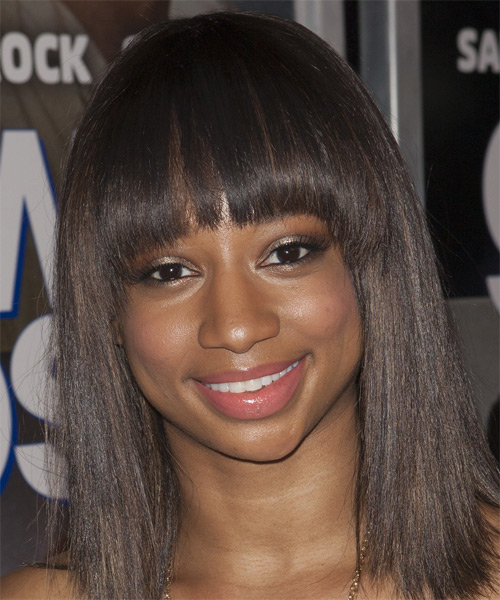 Monique Coleman was ahead of the game when she sported this choppy bob ages ago! This hairstyle is a great option for women who like a heavy fringe that blends into the hair at the cheekbones. More specifically, this will suit ladies with oval, oblong, heart and diamond-shaped faces like Monique. The lengths look oh-so-healthy with blunt edges, which have been flat ironed straight for that extra wig-like look!
This hairstyle is perfect because the cut and bangs help to frame her face nicely. Once again, glasses will not suit this look so you can use contact lenses if you really like this hairstyle. When it comes to your makeup application for this look, keep in mind that the cut makes your eyes the focal point on your face. You can do a gorgeous smokey eye for an evening look with some false lashes to make your eyes pop more. Do not forget to highlight and contour your face and neck area. Finish off the look with a gorgeous lip color and you are good to go!
How to maintain your new choppy haircut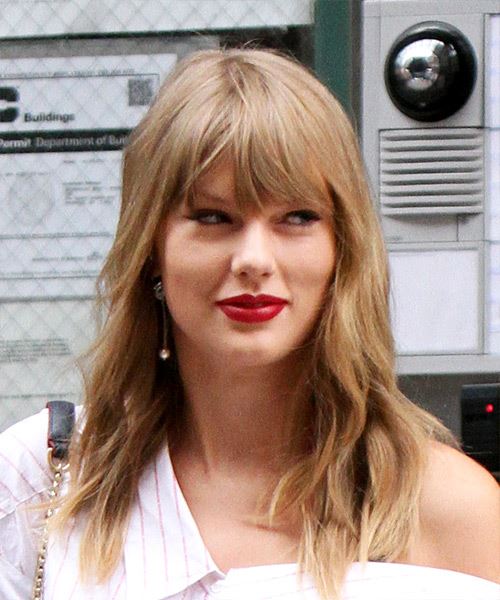 There are three ways that you can manage and maintain your new haircut and style.
Method one: Styling layered hair
Blow-dry your hair when you plan on styling it. Blow-drying your hair will make the layers more noticeable and bouncy. Use a blow dryer on your hair after your shampoo and conditioning routine in the shower.
Use a boar-bristle brush on curly hair. Using the wrong type of brush can leave your hair looking frizzy or messy. If you have naturally wavy or frizz-prone hair, use a boar-bristle brush.
Use a large ceramic brush with nylon bristles if you have straight hair. To use this brush, hold the brush underneath a section of hair. Do each section at a time and ensure that you lift the brush up and out as you near the end of your hair. This will create volume and bounce.
Add curls or straighten your hair. Changing up your style every so often will freshen up your look. If you have naturally curly hair, straighten it every so often. If your hair is straight, add curls or waves to it with a curling iron or texturizing spray. Make sure you apply a product on your hair before you place heat on your hair to protect it.
Method two: Keeping Layered hair healthy
Apply a protectant before using heat on your hair. Never apply heat to your hair without applying a heat protectant first.
Use a moisture-rich shampoo and conditioner. If you hair is damaged, then use a moisture-rich shampoo and conditioner on your hair every other day or a few times a week, depending on how often you wash your hair.
Apply a deep conditioner once a week. A deep conditioner will condition your hair more thoroughly than a conditioner that is meant for regular use.
Avoid using heat products daily. Daily use of heat styling products may end up seriously damaging your hair, which will leave your layers looking fried. Blow-drying and the occasional use of a heat styling tools, like a straightener or curling iron, is okay with the use of a heat protectant, but try to avoid the daily use of heat.
Method three: Freshening up the look
Trim your hair every six weeks. Layers can quickly lose depth and definition. Split ends are also more apparent with layers, so frequent trims are important.
Enhance the look with color or highlights. Adding color or highlights can freshen up your look and make your layers more obvious. You can go for a more subtle look by adding natural looking highlights or you can go bold and choose a funky color. You will need to touch up your color once every 5 weeks or so to ensure that the color stays vibrant and that your roots do not show too much.
Accentuate your style with bangs. You can make your layered hair appear bolder with blunt bangs. If you want to add bangs, just make sure that the bangs that you add will suit your face shape and glasses if you wear them.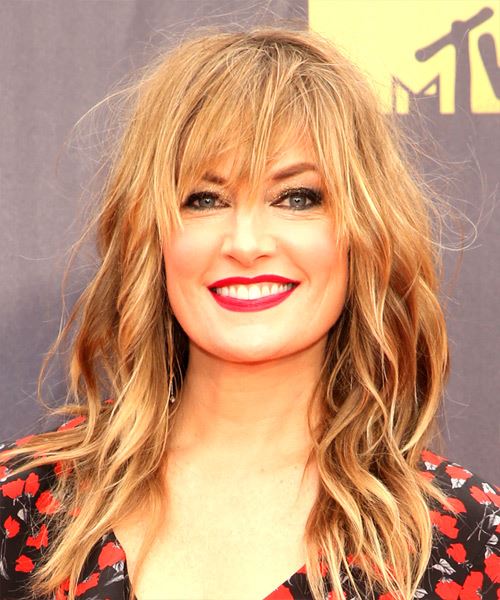 You can see what you are going to look like with one of the styles on this post by uploading your photo to TheHairStyler.com to see for yourself what kind of haircut and style will look good. All you need to do is upload an image of yourself onto our site. Choose a haircut that you think you might like and you will have use of our virtual hairstyler. You will get a better idea of what type of style will look great for you and what styles you will not enjoy.
If you do not like any of the hairstyles and cuts that we have shown you in this post, do not worry! As we said earlier, there are thousands of hairstyles for you to choose from on our site. All you need to do is search for the length that you like, browse our options and you are ready to take on the world with a new hair cut!