Known for her powerful voice and charisma, Whitney was a true music legend. She was also a beauty icon for women worldwide throughout most of her life. Her fabulous bone structure, perfect smile and almond-shaped eyes were coveted by women everywhere, as was her ever-changing hairstyle. She had her problems, but Whitney always tried to look classy, sophisticated and every inch the diva. Here are some of Whitney Houston's best hairstyles from her later years.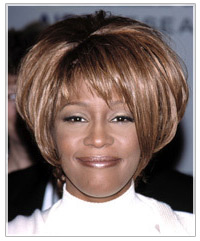 Whitney had a classic oval shaped face, so short and sassy hairstyles suited her well. Here, she is sporting a layered graduated bob with a fringe in a light caramel color. This is a nice look for her, but the color washes her face out slightly. Still, with her youthful looks she can carry it off.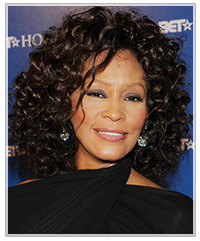 Here, Whitney looks ravishing in a deep black shade with brown highlights. This is an elegant color that suits her more mature face, which is also nicely softened by her layered curly hairstyle.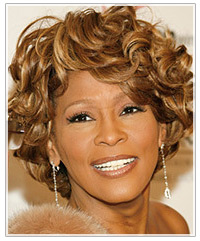 Whitney is a true golden girl in this hair color, which matches her warm skin tone. The mixture of golden brown and blonde highlights gives great dimension and controls the brassiness that would occur if she went fully blonde.
Whitney had a great sense of style and beauty, and will continue to be an inspiration for years to come.
To see how you'd look with any of the great hairstyles pictured in this blog, click on the above images to try the virtual hairstyles with your own photo!