British actress, singer and model Victoria Summer is blessed with porcelain skin and expressive but doll-like features. This allows her to pull off any hair and makeup style she wants with ease. Although she usually wears her hair in longer styles, recently she has tried something new with this elegant pixie haircut, and sophisticated makeup to match. Overall, this is a vintage-inspired look that suits women who have a classic sense of style, however the haircut can be modified to look more edgy through different styling techniques. The makeup can also be adapted to suit your particular fashion sense by changing up the colors and application technique. But for now, let's focus on how to get this picture-perfect look.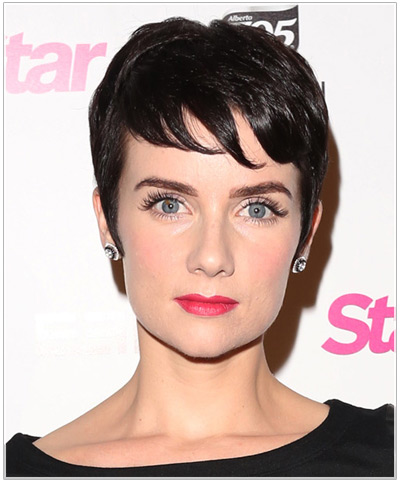 The haircut is a classic pixie cut that will work on most face shapes except for square and rectangle. This layered cut hugs the face and tapers in on the sides and back. Victoria has a high, broad forehead so she has opted for a long fringe that is angled down towards the temple; but for those who prefer a no-fringe look, the front section can be cut short and blended in with the rest of the 'do. Whatever your color may be, take inspiration from Victoria and keep it monochromatic and dramatic.
The best part about this haircut is the styling time. Even if you need to be ready for the red carpet, this 'do can be styled in minutes by adding a bit of mousse or gel to your towel-dried hair and then blow-dried into place. For a sleek look like Victoria, use a round brush to style and style it with a high-shine pomade. For a cooler, casual look, blow-dry your hair using your fingers to style, it and keep it piecey by using styling wax.
When it comes to the makeup, a crisp vintage look works best with this chic 'do. Of course, it helps if you have flawless, porcelain skin like Victoria but even if you don't, you can achieve this with a fabulous foundation. Once your base is perfected, start by grooming your brows into place and filling them in with a matching pencil. A strong brow will work wonders here so don't be afraid to really accentuate them. Next, begin your eyes by applying a light pearl eye shadow across the lid and brow bone. This provides the perfect canvas for the dramatic black liquid eyeliner that you are going to apply next. Create a precision line that gradually gets thicker toward the outer edge of the eye and then create a feline flick at the end. Finish it off with a couple coats of mascara and maybe some extra fake lashes at the outer corner of the eye lid, and you are done with the eyes. Now, use a pink blush on the apples of your cheeks for a rosy glow and apply an intense pink lipstick and liner to the lips to create that gorgeous doll-like look.
Of course, you can vamp it up a bit by wearing a smoky eye and dark wine lipstick instead. Or, go for the natural look in the daytime by wearing a bit of mascara and eyeliner on the eyes and a sheer nude gloss on the lips.