You can pull off almost any makeup style from áu natural to the vamped-up vixen look with ease. For a chic in-between look that is prim and polished but not too over the top, check out Victoria Justice's fresh makeup style that looks great on ladies with dark hair and ivory skin.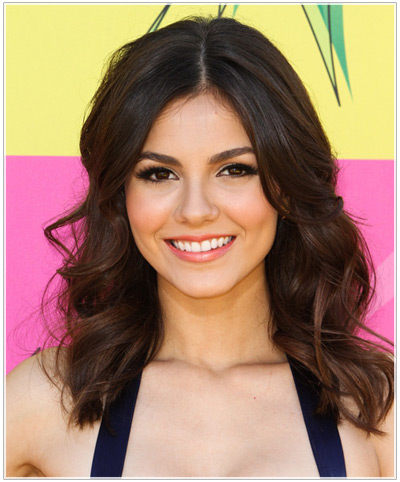 Start with the eyes and use a pearly bone shade on the eyelid as a base. Then, apply a rich espresso shade of eye shadow in the crease and also along the lash line. This technique allows you to define your eyes with the dark shade while bringing light to the eyes with the lighter base shade. Then, line the eyes with black or black-brown eyeliner on both the top and bottom lashes and finish it all off with matching mascara.
On your cheeks, add a fresh glow by using a peach-pink shade like coral or sunset.
Victoria's choice of lipstick is perfect for ivory skinned brunettes. This duo-toned shade can be found in most quality makeup lines and has a pink base with a golden shimmer to it.
This makeup works for day or night when you want to go for a classic look.
For even more helpful makeup hints, see our full range of beauty articles and beauty blogs. You can even try some virtual makeup on your own photo or our model using our Virtual Hairstyler!