Soap actress Vanessa Marano is known for her luscious curly locks that are always in great condition. For  anyone with curly hair, you know that making the most of your hair's texture can be a challenge at the best of times, especially if your hair is long. If you need some style ideas, here are two curly hairstyles worn by Marano that may work for you.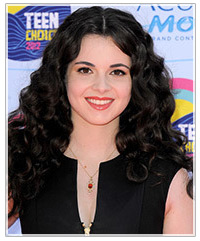 In this first style, Vanessa has opted for a simple centre hair part and let her curls tumble free. The best thing about this look is that there is 0% hair frizz. Vanessa has most likely used an anti-frizz serum on her towel dried hair, as well as a heat protectant that seals in gloss and shine before heat (from a blow-dryer or curling iron) is applied. To finish it off, a light gloss pomade would keep the curls separated nicely and polish off the entire look.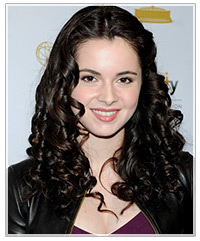 In another photo, Vanessa has gone for a more artificial curly look, adding tight corkscrew curls with a curling iron or wand. Ladies with naturally curly hair will suit this look well, especially if it's for a more formal event.
If you have curly hair like Vanessa, try these looks out and let us know how they turned out in the comment box below.
To see how you'd look with any of the hairstyle pictured in this blog, click on the above images to try the virtual hairstyles with your own photo!