Reality TV queen and author Tori Spelling likes to change up her hairstyles often, although since her days on Beverly Hills 90210 it has pretty much remained in some form a blonde bob. In any case, a little change can go a long way to improve one's looks so let's see how Tori's hair has transformed her over the years and decide which look is best for her.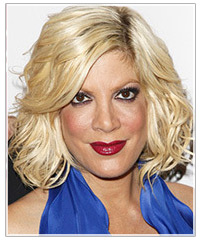 In this most recent photo, Tori has let her natural waves do their thing and has kept it simple with a side hair part and side-swept bangs. This is a simple look for Tori that softens up her facial features (which unfortunately are caked in makeup in this photo).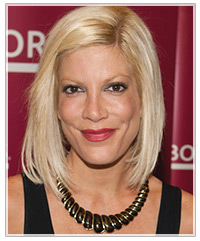 Here, Tori goes sleek with a straightened bob and side part. Instead of sweeping her fringe to the side, she has used a bobby pin to secure her bangs back, which gives this style a youthful feel.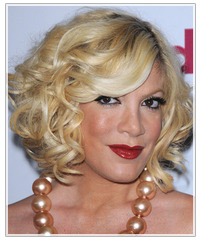 In one of Tori's evening looks, she has added corkscrew curls to her bob for a bouncy, volumized 'do. This style looks great on Tori and creates a nice frame for her rectangular face.
Tori has a long face and bold features so she can pull off many hairstyles. Where she goes wrong with her look is the heavy makeup, but that's another story. Which of these looks work best for Tori in your opinion? Leave a comment below.
To see how you'd look with any of the great hairstyles pictured in this blog, click on the above images to try the virtual hairstyles with your own photo!