Michelle Williams is blessed with flawless skin, elfin features and a fine bone structure-the perfect recipe for someone to flaunt a pixie cut. And flaunt it she does-Michelle has professed her love for this retro cut and is rarely seen with long hair anymore, even though she has been quoted as saying that only girls and gay men like her hair in a pixie! We think it looks fabulous, so here is a gallery of Michelle's slightly changing pixie cuts.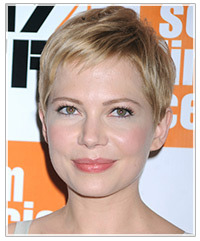 In this photo, Michelle's hair is a soft golden blonde and her pixie cut has been texturized, with short jagged bangs that sit on her forehead. This makes the most of her cheekbones and brings out her eyes.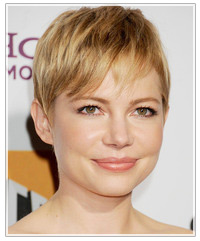 Here, Michelle has grown out her bangs and darkened up the color. There is also more volume in the crown of this cut.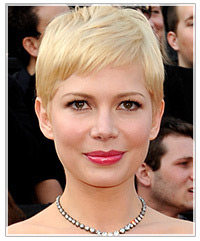 Michelle has gone peroxide blonde here. The solid buttery color isn't as flattering to her face or the cut as the more natural looking blonde shades, but pixie cuts do look more edgy with bold, monotone colors.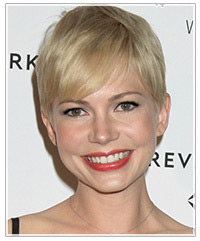 In a more recent look, Michelle is still rocking a light blonde color but has grown the sides and crown areas out. Without the layering and texturing, her pixie cut loses its definition.
Michelle's face looks better with a shorter fringe and a natural looking blonde hair color that has highlights and lowlights. Which pixie cut gets your vote?
To see how you'd look with any of the great hairstyles pictured in this blog, click on the above images to try the virtual hairstyles with your own photo!