The movie was made ages ago but Nicole Kidman was spotted wearing a Stepford Wives style hairdo at the most recent Golden Globe Awards ceremony. Looking as elegant as ever, Nicole appeared much younger than her years. Maybe it's because she avoids getting a suntan and therefore has gorgeous glowing skin. But, it is also down to her youthful and stylish hairdo. If you are over forty and crave a fun, feminine style to wear, this one may be perfect for you.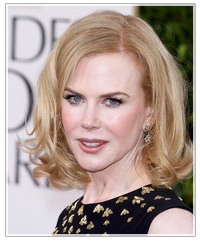 This hairstyle looks best on oval, oblong, square, and diamond face shapes. Ladies with straight hair can achieve this look with a few simple styling products (mousse, hairspray) and a curling wand or rollers. Those with some texture in their hair can get this look as long as they don't mind blow-drying it straight, and then adding curls in the ends with a round brush.
The best part of this pristine look is the soft volume on the top. After styling the hair, add volume by teasing the roots on the crown of the head and then smooth the top layers over for a polished finish. Make sure to go for a a deep side part for maximum glam power!
 
To see how you'd look with the great hairstyle pictured in this blog, click on the above image to try the virtual hairstyle with your own photo!