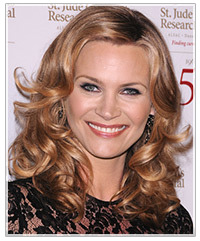 Model and actress Natasha Henstridge is known for her enviable figure, stunning looks and of course, her wheat blonde locks. She is still looking great, but some fans aren't too sure about this new hair color.
Natasha usually rocks a light blonde shade of hair to match her fair skin tone and light blue eyes. Platinum and champagne shades of blonde really suit her complexion, so this new strawberry blonde shade is a big change for her, but unfortunately it's not a 100% positive one.
The main problem with this color is its warm tones. Natasha's complexion would look much better in cool or ash tones and this color is just too brassy for her skin. Another problem is the style. The hair color actually has potential, but the hairstyle isn't doing it any favors. It tends to date Natasha because it's very structured and looks like she has just taken out her hair rollers and left it as is. Loosening and separating the curls could have gone a long way here, adding some tousle to those locks could really add some glam factor. Finally, the color seems to be in between shades. Is it blonde? Is it red? Is it light brown?  It's hard to say!
So what's your verdict on Natasha Henstridges' color—is it modern or mousy?