Techie TV host Morgan Webb has graced the covers of many magazines with her exotic looks and killer curves. Although she usually looks amazing, this hairstyle is doing nothing for her. Let's take a look at what went wrong so you can avoid a similar hair disaster.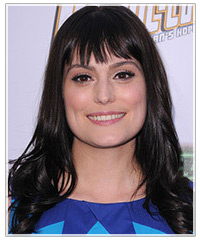 The first problem with this hairstyle is the fringe. Morgan's raven locks are just past the shoulders with some long layers cut in. This is her typical hairstyle, however here she has added a fringe to change up her look a bit. While it does frame her eyes nicely, she has a square face and this hairstyle actually creates a boxy look that adds more width to her face. This hairstyle would be more suitable on someone with an oval face like Katy Perry or Jessica Alba.
The next problem is her layers, or lack of. Square faces need a lot of body and movement to avoid looking dragged down by their hair. In this case, the heavy ends and curls added at the bottom only highlight her strong jawline. Razored layers around the face would be a better option.
Morgan should revert to her signature style with a grown out fringe. In the meantime, she could wear her hair back until her fringe grew long enough to sweep to the side.
To see how you'd look with the hairstyle pictured in this blog, click on the above image to try the virtual hairstyle with your own photo!