Marley Shelton was recently papped channeling her inner disco diva with a retro Seventies- inspired hairdo. This style was a great match for Marley's oval face shape and her hair texture.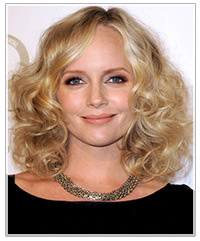 You can copy this look if you have shoulder length or longer hair (the curls will make it spring up to sit above the shoulder). You can also try this out if you have short or long hair, but the results may be less than spectacular. Short-haired ladies will end up with a rounded "afro" style, and long hair won't be able to hold the teasing and volume as well as shorter hair.
The first step is to use hot rollers to create tight curls all over—use 1" sections or smaller for best results. Once they have set, unroll them and create an off-centre hair part like Marley.
Using the tail end of a comb, separate all of the curls and then use the comb end to tease out the ends, lengths and roots. Adjust the volume to your liking—the more teasing you do on the lengths and ends, the more Seventies vibe you will channel. Complete the look with sultry eye makeup and a nude lip à la Shelton, for a sexy evening look that is guaranteed to turn heads!
See more Marley Shelton looks here and try the hairstyles on with your own photo using our Virtual Hairstyler.