Newly-single Katie Holmes has been splashed all over the papers lately, but not for her impending divorce. Instead, everyone is interested in what Katie is wearing for clothes and makeup now that she is free and single. Is she trying to show Tom what he's missing? Or is she letting herself go? The answer is-neither! Katie Holmes has rocked her signature style for years now, and her marital status isn't going to change that. She always looks radiant, except for on the odd night out with Suri, but what mom doesn't have an off day? Besides looking fab in the fashion department, lets check out her signature hair and makeup style.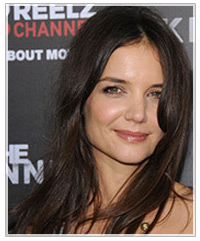 Katie has experimented with short hair before, but for the past few years has worn her hair long, in a super-shiny espresso shade.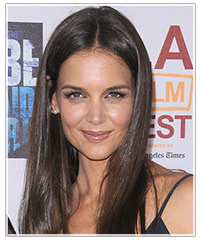 Loose waves and a centre part is her typical hairstyle, but she also goes sleek on occasion. The centre hair part looks great on her face shape and wearing her hair straight makes it appear oh-so-shiny.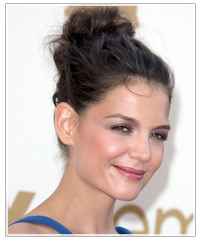 For running around town or for an evening out, Katie usually rocks a top knot. But rather than pulling it into a slick style, she leaves it loose to suit her laid-back glam look.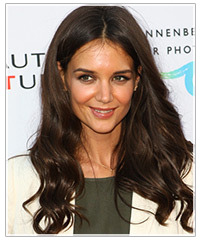 When it comes to her makeup, Katie plays it safe in neutral shades that bring out her green eyes and matches her warm skin tone. Her lipstick is usually a shade with a brown or beige base-a great choice for brunettes.
To see how you'd look with any of the great hairstyles pictured in this blog, click on the above images to try the virtual hairstyles with your own photo!