Jennifer Hudson is somewhat of a style chameleon, going from retro vintage looks to ultra modern styles in both hair and makeup with ease. Her latest look is not only funky and fresh but also right on trend for winter 2013/2014. Jennifer has shelved the classic look for the time being and has lightened up her hair and makeup- literally! This new look suits her slimmed-down physique and brings the spotlight to her fabulous facial features. Overall, Jennifer looks cool, confident and one step ahead of the fashion game. Love this look? Keep reading to find out how you can get it.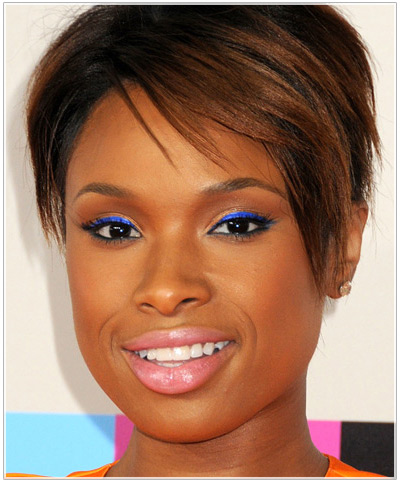 Electric Blue Eyes
Jennifer knows that as a lady with dark skin, bold jewel tone eye makeup looks smokin' hot on her. In particular, intense sapphire eyeliner looks amazing on dark complexions. To recreate this look, use a gel formula eyeliner to create a striking thick streak of blue on the top lash line. You can also apply a thinner line on the bottom lash line as well. Keep in mind that when wearing intense eyeliner colors, you need to "ground" it near the lash line with a neutral colour unless you are going for the sci-fi look. Jennifer has used a thin line of black on both lash lines and smoked it out slightly to create a more polished look and make her eyes pop. Of course, you can't forget the mascara. Stick with black or dark brown and avoid being too matchy-matchy by using a sapphire mascara, no matter how tempting it may be!
If you have olive skin, you may want to replace the sapphire shade with a deep emerald or olive green. Ladies with fair skin can rock the sapphire as well, but may want to add a lippie with more of a pink punch to it.
Light Pink Lip
To finish off the makeup, follow Jennifer's lead and keep the rest of the face fresh and neutral except for a soft pink lip. It helps to have a glowing complexion as well, so you may want to try out Jen's must-have beauty product- Per-fekt Skin Perfection Gel- under your base. This will give your skin nourishment with its vitamin A and E formula, along with a shimmery bronze undertone.
Short, Layered Hairstyle
Of course, the makeup is complimented by Jennifer's fabulous haircut. This short layered hairstyle will suit ladies with round, oval, heart, diamond, and triangular shaped faces the best and will need regular trims to maintain its shape. If that sounds like a fit for you, then ask your stylist for a short haircut that has long angled layers near the face that graduate up towards the back of the head. You can also request a pokey fringe as well if you prefer a bit of forehead coverage. Jennifer has added some gorgeous warm brown highlights throughout to give this 'do an extra dose of style. When it comes to maintenance, try out Jennifer's bargain must-have product—Organic Root Stimulator Hair Fertilizer. It costs less than $10 at the beauty supply store!
Jennifer rocks this look effortlessly because she's got the face to pull it off, but moreso because she lets her confidence and inner beauty shine through.