American singer Pink not only has a fierce voice, but she also has a funky sense of style that girls everywhere love to copy-especially when it comes to her hair. Here, our models are flaunting hairstyles that are inspired by Pink-keep these in mind the next time you want to go for a fun and feisty look!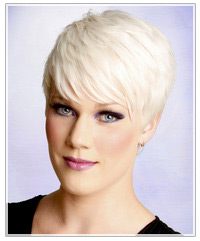 This platinum blonde cropped 'do is 100% Pink. If you want to rock this icy cool 'do, ask your hairstylist for a short layered hairstyle that is tapered at the sides and back. Our model has kept longer layers and a side-swept fringe, which is very versatile, but if you crave something more punky, ask your stylist for shorter layers that can be spiked.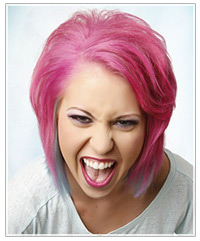 For a bright and bold look, copy our model's cherry pink hair color. This will require bleaching then coloring it with a vibrant pink dye, but the results will be pure rock n' roll!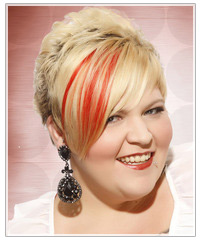 Or, if you liked both of the styles above, why not combine them into one? Our model is flaunting a Pink-esque light blonde cropped hairstyle with peek-a-boo vibrant red highlights in the fringe. Try hot pink or a cool blue if red isn't your thing, but just remember to rock this 'do with attitude in true Pink fashion.
To see how you'd look with any of the great hairstyles pictured in this blog, click on the above images to try the virtual hairstyles with your own photo!