Dianna loves to mix up her hair color and cuts, and has worn some stunning styles during her time in the spotlight. Here are some of Dianna Agron's best hairstyles to date: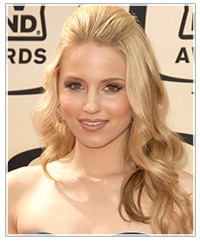 Dianna looks angelic in soft golden blonde waves. The top section of her hair has been teased and swept back, adding a small bouffant effect at the crown. This is a great look for oval face shapes like Agron.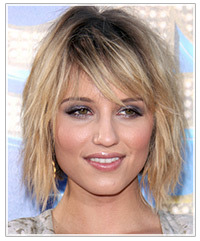 With a textured bob and chunky side-swept bangs, Dianna looks oh-so fashion forward and chic. This cut brings out her strong cheekbones and the color is ashier, which balances out her complexion nicely. The cut is a good length for her showing off her jaw line and neck.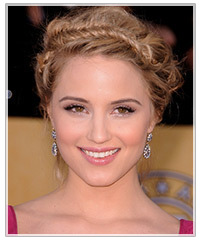 This is a regal look for Dianna. Her honey-hued hair has been braided around the crown and piled up at the back of the head. This hairstyle is a killer look for a formal night out. It may take some time to do though, so be prepared!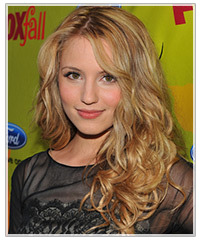 More recently, Dianna has been wearing her hair in a dark golden blonde shade with long layers framing her face. This is a loose casual look that works for day or night. It's a classic, feminine look that most women could pull off easily.
To see how you'd look with any of the great hairstyles pictured in this blog, click on the above images to try the virtual hairstyles with your own photo!