Is it her luminous, line-free skin? Or that wildly wonderful hair of hers? Chaka Khan has also lost a lot of weight recently too, which is probably another reason for her inner and outer glow. In any case, the Queen of Funk knows how to rock trendy hair even on the cusp of 60! If you have dark skin like Chaka's, you too can be fresh and funky in vibrant red hair. Here's how: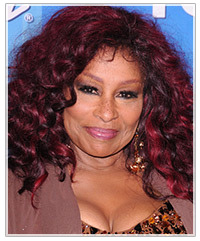 Chaka Khan has chosen a glossy bold red. Tell your hairstylist that you want a deep cherry wine shade as the final result, to avoid getting an orangey Rihanna-style red. For the application, follow Khan's lead and go for a half head of highlights. For a blended look, tell your stylist for very thin highlights. To get bolder streaks like Chaka Khan, ask for thicker highlight sections. It's best to get a half head rather than a full head of highlights to keep your natural black hair underneath as a good base.
Now that you have Chaka's hair, try out her eye-grabbing style and add some funk through your outfits and jewelry. And remember to invest in a great berry-shade of lip gloss like Khan is wearing here.
To see how you'd look with the great hairstyle pictured in this blog, click on the above image to try the virtual hairstyle with your own photo!