Recently, actress Kaley Cuoco stepped out sporting a chic and elegant new hairstyle. This new 'do was a usual departure from the long wavy hairstyles that she has been sporting for years, and it has done wonders to update her look. Kaley has really set herself apart from the Hollywood crowd with this sophisticated new 'do, and will probably see a whole slew of new and exciting roles coming her way. For now, let's check out her newer hairstyles, and some from years past, in this celebrity hairstyle spotlight.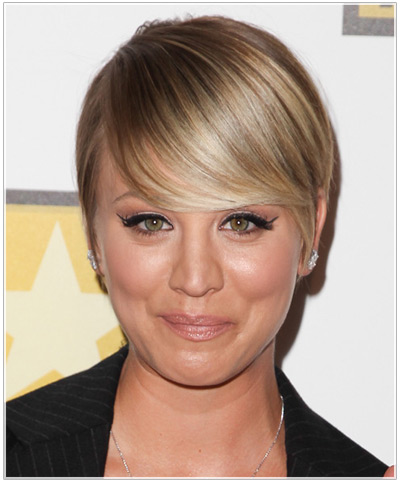 Kaley's latest look is elegant and classy to say the least. Her oval shaped face is suited to this tapered cut (but it would also look good on oval, oblong, square, and diamond shaped faces too, just in case you want to copy this 'do!) Kaley's under layers are cut very close to the head, with the top layers being left long for a sculpted look. The hair has also been blended greatly to take out extra bulk and create a smooth and sleek look . Naturally, this is a great option for women with thin to medium hair with a straight texture. Kaley is wearing this hairstyle with a deep side part and side swept bang, but it would also look fabulous styled back off the face for a cooler, edgier look.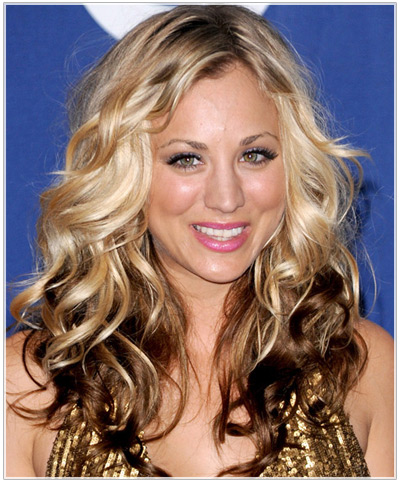 Rewind a few years back and Kaley was a far cry from her currently sleek self! Here, she is looking more country singer than Hollywood actress with two-tone hair, mega-volume curls and loads of volume throughout. Not that her hair is anything less than fabulous—she looks great in long loose waves and short sassy styles alike. It's interesting to note just how much going from long to short, curly to straight, and even changing up her makeup makes such a huge impact on her look!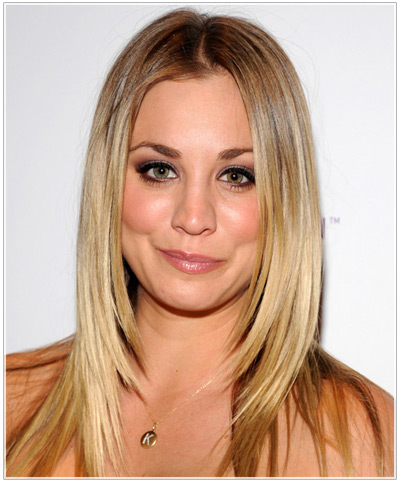 Here we see Kaley in a straight hairstyle that looks fabulous with her golden blonde locks. This is the ultimate California girl look—tanned skin, honey blonde hair and shiny tresses. The simple jagged layers around the front area create a nice frame for her face and the center part works well with her face shape. Overall this is a flattering look that compliments Kaley's face shape, skin tone and awesome amber eye color.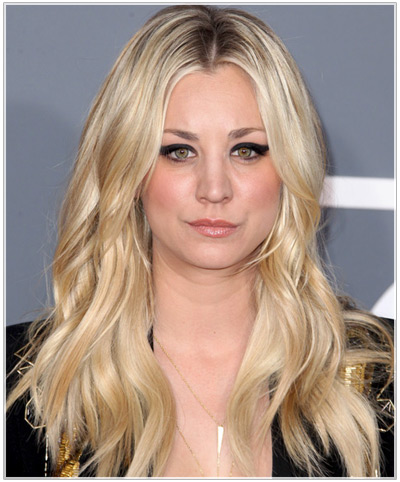 Moving forward, Kaley continued to grow her hair out and changed her color up to a light champagne blonde with fantastic results. This chic color looks great with her peaches and cream skin tone, not to mention the jagged long layers and loose waves give this hairstyle an overall soft and feminine finish. Kaley also has some shorter layers around the jaw that would look lovely left down when she wears updos. Note: This is a good technique to try to soften up your updo's, except if you have a square or otherwise heavy jawline in which case you want your face-framing layers to be longer (towards mid-neck).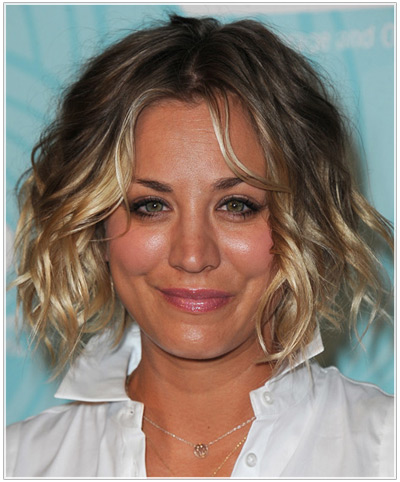 Finally, before she went for the big chop, Kaley tried out a medium bob hairstyle to get a feel for short hair. This wavy bob wasn't her best look, so her newest 'do is a definite improvement. It's obvious that Kaley looks great in any hairstyle but her cut and color heavily affects her overall image. While in the past she's had more of a bubbly beach girl image, her latest haircut has her looking sleek, sophisticated and sexy!