Here, Busy Philipps is wearing a pretty braided hairstyle that can be done in minutes. If you want a folksy, artsy look to flaunt this summer, give this quick and easy style a try. This is the perfect 'do for attending a music festival. Coachella here we come!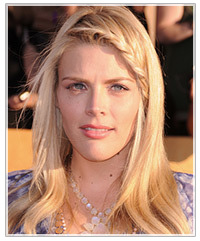 This hairstyle works with any hair texture, but the braid is best seen on slightly wavy or straight hair. If you opt for straight hair, don't bust out the straighteners and do a rough blow-dry only—this style should look effortless.
Next, create a deep side hair part and grab a section of hair from the crown to start braiding. Busy has used a corn braid, which looks "raised" on top of the hair, unlike a French braid which is flat. To get this look, instead of placing the strands of hair on top of each other when braiding them together, reverse it and pull them underneath each other. Keep the tension loose and once you have reached mid-neck length, pin it back loosely behind your ear.
Voila—you have a boho braid in less than a minute!
To see how you'd look with the great hairstyle pictured in this blog, click on the above image to try the virtual hairstyle with your own photo!