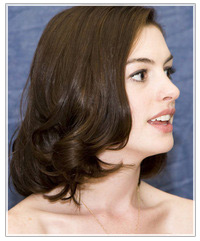 Anne Hathaway is known for her classic beauty, most notably her large eyes and mega-watt smile. This Devil Wears Prada actress is also becoming a style icon of sorts, with ad campaigns for Tod's and Lancome under her belt, not to mention her much-anticipated debut as Catwoman coming soon—Hollywood can't get enough of this woman. And, as beauty and hair aficionados, neither can we!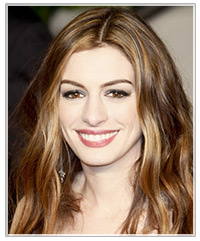 Anne is usually rocking dark brunette waves, Long, short, wavy and straight, her shiny chocolate locks make a striking contrast to her porcelain skin. When she's not going for the dark and dramatic look, Anne lightens up with golden and copper highlights. This gives her an all-over warm tone that is super glossy and brightens up her skin. A centre hair part works well for Anne's face shape and large facial features. Along with her brilliant white teeth, dark pink lips and subtly smoky eye, this look is pure glam.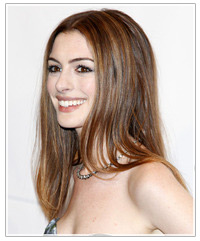 Keeping the center part, Anne's highlights are even more noticeable when her hair is blow-dried straight. If you like this look, remember to add some heat protectant to your hair before you blow-dry or flat iron it, to keep it healthy, shiny and full of star power.
See more of Anne Hathaway's looks and try the hairstyles on with your own photo.