Victoria's Secret model Adriana Lima is known for her sultry Brazilian looks. Her tanned skin, brunette hair and blue eyes are a striking combination, not to mention that amazing figure! In any case, Adriana usually maintains her signature shade of brown hair, sometimes mixing it up with sun-kissed highlights or lighter brunette locks. However, she has also experimented with going darker and has even tried a deep jet-black shade. But does it suit her? Let's compare both looks.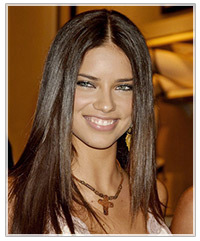 Here, Adriana looks fabulous in a shiny mocha hair color and earth tone makeup to match. Her complexion looks rich and creamy and her eyes are intensified with this coloring.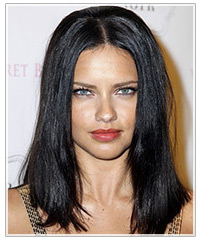 On the flip side, here Adriana is looking fierce in ink- black hair. Her skin is tanned so she can pull off this deep hue without a problem, and her eyes look brilliantly blue. Earth tone makeup would work well with this hair color too but instead, Adriana has chosen a soft red lipstick for an extra vampy look.
Both colors look great on Adriana, although it goes without saying that the mocha brown looks a lot more natural. If you have a similar skin tone, consider what a difference a few shades can make to your overall look before you change your hair color.
To see how you'd look with any of the great hairstyles pictured in this blog, click on the above images to try the virtual hairstyles with your own photo!