Investing in cherry red clothes will take some time and a lot of trying on, but it only takes a minute to pop down to the shops and grab yourself a cherry red nail varnish or lipstick. Here, we'll take a look at some ladies who are already sporting red lips. Notice how their hair, sense of style and makeup application completely changes how their cherry red lips look!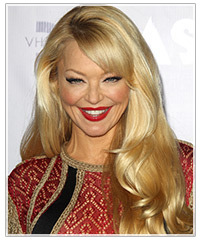 Charlotte Ross looks all-out glam with her cherry red lipstick and cascading golden blonde hair. Her choice of bronzed cheeks and black eyeliner makes this a look for ladies who love to be fully made up. The downside of this look is that it can be ageing.
Our model works makes her cherry red lips the focus of her look by keeping her fair complexion natural looking, and her eyes softly enhanced with black eyeliner.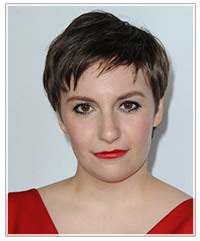 Lena Dunham looks edgy in cherry red lipstick and thick liquid eyeliner. Along with her choppy pixie cut, Lena's makeup looks artsy and cool.
Cherry red lips can work day or night, depending on how you choose to wear it. What's your favorite way to rock cherry red lipstick?
For even more helpful makeup hints, see our full range of beauty articles and beauty blogs. You can even try some virtual makeup on your own photo or our model using our Virtual Hairstyler!