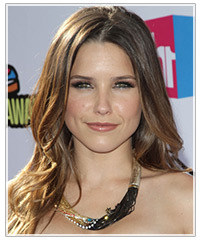 Sophia Bush is that great little actress from One Tree Hill, with the gorgeous auburn hair and adorable dimples. She has a distinctive angular jaw line, so girls with a similar square face shape can take inspiration from her soft and sweet hair and makeup style.
Sophia is blessed with petite features, so she uses her makeup to bring out her eyes and lips. She has a warm skin tone which she enhances with a palette of coral, brown and bronze, and a lot of mascara to make those eyes pop. To get Sophia's look, rim your eyes with black brown eyeliner, and softly smudge it outwards. Layer soft shades of cinnamon and bronze on the upper lid and finally, the piece de resistance—Sophia's must have product, Benefit Badgal mascara.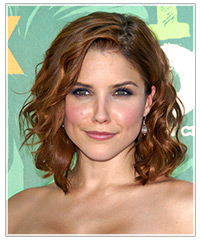 To soften up her angular jaw, Sophia incorporates loose waves into all of her hairstyles, long or short. She can definitely work the centre hair part, but a side part along with warm coppery highlights adds more dimension to her hair. If you have brown hair, warm skin and green eyes like Sophia, try adding copper or honey highlights to glam up your look.
See more Sophia Bush hair and makeup looks.