She is always polished to perfection and flaunts an ultra feminine, girlie style whatever the occasion- whether she's running errands around town or at a star-studded event. It's safe to say that Selena Gomez has secured her status as a beauty role model for young ladies with her flawless makeup and trendy hairstyles. Her latest look, shown here, is an easy one to achieve and will suit any complexion, hair type or face shape. Here's how to get it: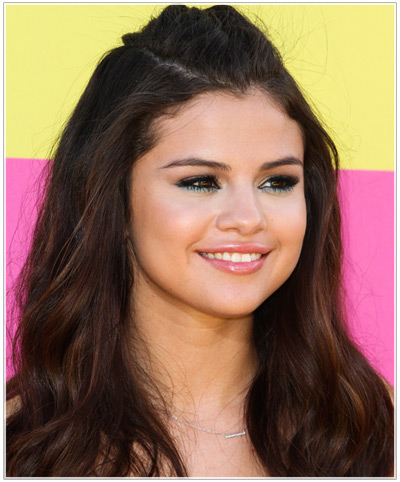 The Hair: Selena has long, thick hair that must be a nightmare to deal with at times. Creating a French braid at the crown is a great way to control unruly waves without scraping your hair back into a ponytail. Simply take a 2" wide section of hair at the crown and French braid it towards the back of the head, and then pin it into place.
The Makeup: Selena makes her dark eyes pop with dark brown eye shadow and ink black eyeliner on the top and bottom lashes. For an extra hint of color, Selena has applied a metallic emerald eye shadow along the bottom lash line. So trendy!
You can tailor this look for day or night by how much eye makeup you apply. Enjoy this easy and versatile look, á la Selena!
For even more helpful makeup hints, see our full range of beauty articles and beauty blogs. You can even try some virtual makeup on your own photo or our model using our Virtual Hairstyler!