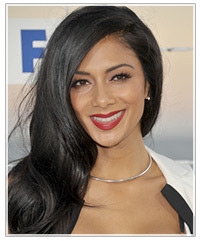 As a former member of the Pussycat Dolls, we've seen Nicole Scherzinger in a variety of looks that range from punky to pop-y to just plain trashy. While the Pussycat Dolls weren't always known for their sophisticated style, since going solo Nicole Scherzinger has carved a new look out for herself.  And, now that she is a talent judge on the X Factor, it seems that Nicole is going for a more fashionable and dare we say it-demure- look.
Nicole's gorgeous long black hair is her trademark, and here she has made the most of its natural thickness and sheen with this long, polished hairstyle. Her deep side hair part creates a nice angle to show off her cascading waves, and it also flatters her face shape. If you have long black hair, make the most of its natural shine and do regular deep conditioning hair treatments to keep it in top form.
Her makeup in this photo adds just enough glamour without overshadowing her natural beauty. Nicole had chosen a dark red lipstick shade that works well with her olive skin tone, however she could have taken it up one shade brighter to lighten up her look. Finally, she completes the look with simple eye makeup—just a bit of black eyeliner and loads of mascara is all she needs to look red-carpet ready!
See more Nicole Scherzinger hair and makeup looks and try the hairstyles on with your own photo using our Virtual Hairstyler.