Milla Jovovich doesn't need to do much to look stunning, but for a night out she really knows how to turn heads with minimal makeup. Here, she is sporting dark eye makeup to match her new espresso hair hue, but instead of looking heavy and dark, her makeup is still refreshingly light and modern. If you love this look, you can easily copy it for similarly sexy results. This makeup suits ladies with cool skin tones, and looks extra fabulous on women with Milla's dark hair/light eye combination.
To get the look: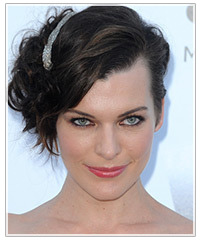 The eyebrows are the first step to this sexy look. Milla doesn't sport full, natural brows; instead she keeps them groomed with precision.


Choose cool black or brown eyeliner and line the entire eye, including the inner and outer corners.


Using a small angled brush, gently smudge in a dark brown eye shadow next to the liner, and finish it off with black mascara.


Keep your base flawless and skip the blush or bronzer.


Choose a gorgeous light shimmery pink lipstick to complete this pretty look. Go for a cherry or intense rose pink rather than light baby pink for best results.


For extra glam-power, wear a diamond or rhinestone-encrusted hair clip just like Milla!