Music and beauty icon Mary J. Blige is a source of style inspiration for ladies everywhere. Her ever-changing hairstyles and vibrant fashion sense make her one of the more interesting celebs to grab style notes from, especially when it comes to makeup. Mary J. loves life as a blonde, so if you have a similar hair color and complexion, check out this style gallery for some ideas!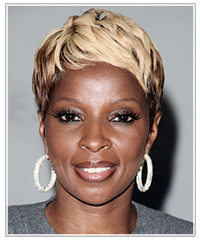 Mary J. looks elegant in earth tones and wheat-blonde hair. On her eyes she has used shades of mocha and brown eye shadow topped off with black eyeliner. This makes her deep brown eyes pop and the fake lashes give her that doe-eyed look. On her lips, a nude lip gloss finished this look off to perfection.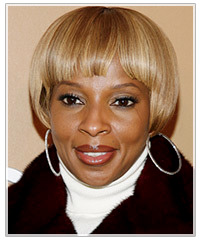 Here, Mary J. is working a warm golden blonde shade that instantly gives her complexion a glow. Her makeup is simple but matches the warmth of her hair and skin tone. Simple smokey eye makeup and a deep tawny lip liner and gloss create a polished look for her.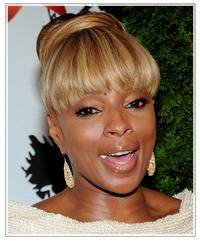 Mary is looking pretty in peach in this photo. Still wearing golden highlights, Mary lightens up her look using shades of peach, bronze and copper eye makeup and lipstick. This is a soft makeup look that will look lovely on women with blonde hair and dark skin.
To see how you'd look with any of the great hairstyles pictured in this blog, click on the above images to try the virtual hairstyles with your own photo!