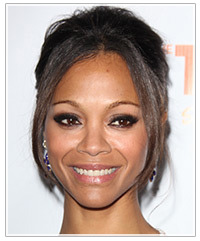 Zoe Saldana has a naturally radiant face, but her latest red carpet look is super stunning. Perfect for an evening out, Zoe's makeup is dramatic but still has a feminine softness to it—something that often gets lost with the smokey eye look. Zoe has beautiful mocha skin but this look will suit any skin tone, so next time you want to get glammed up, follow these simple steps for pure red carpet glamour.
To start, layer your eye shadow by using a neutral bone shade on the eye lid. Continue layering and blending medium and dark brown eye shadow in the crease. If you want to make your eyes look larger, extend it out slightly towards the temples. Next, create a thick line on your upper and lower lashes with dark chocolate eyeliner. Use a soft brush to smudge the bottom line out for that soft airbrushed look.
The second half to this look is the lips and cheeks, both of which are kept soft. Zoe has used a highlighter on her cheekbones, followed by a light pink blush. Her lips are almost nude, except for a bit of nude pink lipstick that has a nice sheen to it for a little extra sparkle. Follow Zoe's lead and finish it all off with a fab pair of earrings!