Marion Cotillard is a natural French beauty, so looking good comes pretty easy to this woman. The fact that she doesn't feel the need to wear excessive amounts of makeup on the red carpet is pretty amazing too—how many of us would face the flash of the paparazzi in minimal makeup?! If you're inspired by this fresh and natural makeup look and want to try it out at home, just follow the steps below. This makeup will  work for all skin tones too!
• Marion's flawless skin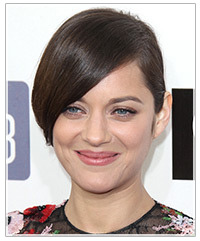 provides a great canvas for this look, but don't be fooled into thinking her skin is left au naturel. Get a flawless base by first starting with a skin primer. Use concealer to cover dark circles and other red or discolored areas on your face – common areas are under the nose, on the chin and near the hairline. Finish it off with a light-reflecting foundation and top it off with a mineral veil for the airbrushed look.
• Softly fill in your eyebrows with a pencil that is the same shade as your natural eyebrow color to keep it looking subtle.
• Use a soft mocha eye shadow to create a smoky eye effect and follow it up with a coat of mascara.
• On the lips, use a soft berry lip stain or pink colored lip balm to get just a hint of color like Marion.
For even more helpful makeup hints, see our full range of beauty articles and beauty blogs. You can even try some virtual makeup on your own photo or our model using our Virtual Hairstyler!