CSI babe Marg Helgenberger looks fabulous for 53 thanks to her glowing skin, natural beauty and of course that shiny copper hair! Women who are over 50 and have red hair often feel washed out and pale as their skin loses its natural warmth, but Marg shows us how simple makeup can replenish a youthful glow to match the vibrancy of red hair.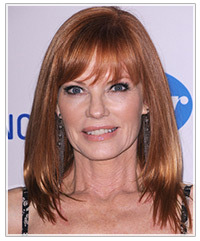 To warm up her base, Marg has used a light peach blush on the apples of her cheeks. This technique gives the appearance of plump, rosy, youthful cheeks.
To make her eyes the focus of her face, Marg has lined them with a soft black eyeliner on the top lash line, and the outer corners of the bottom lash line. To avoid the raccoon look, she has softly smudged out the edges. Brown and grey also works well for copper-haired ladies, so give that a try for a softer look.
To top it all off, Marg has used a peachy-nude lipstick that matches her blush, giving her an all around healthy glow. This is a fabulous makeup style for an evening out. If you want to tone it down for daytime, use light brown or grey eyeliner on the top lash line only.