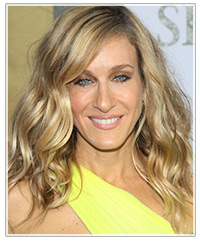 Ever since Sex and the City graced our TV screens, Sarah Jessica Parker has become synonymous with NYC glamour. Her loose bohemian waves, quirky designer wardrobe and glam makeup are her signature style, but anyone can steal her look in a matter of minutes.
Sarah makes the most of her strong cheekbones by highlighting them with soft pink and peach shades, and is rumoured to be a big fan of blush by Model Co and FACE. Apply your chosen blush in a light circular motion and sweep upwards towards the outer brow bone to mimic her rosy cheeks.
Parker makes her baby blues pop with dark eyeliner, and isn't afraid to play around with colour - she is often seen wearing eye shadow in bronze, blue and violet tones. Her typical red carpet look is heavy black-rimmed eyes, which is generally a no-no for anyone who has small, close-set eyes or a prominent nose, so use with caution if this applies to you. Try a shade of grey or light brown for a softer SJP-style eye that will open up the eye area rather than create harsh lines.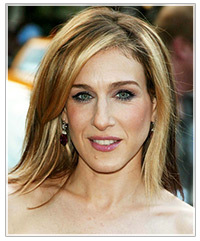 To complete the look, Sarah wears a neutral lipstick in pink or peach tones, with a touch of lip gloss. SJP seems to know what works with her strong features, and is softening her makeup and hair to match as she matures. See more of Sarah Jessica Parker's latest hairstyle and makeup looks in our celebrity hairstyles section, or by clicking on any of the images featured in this blog.